I don't mean to worry you – and I'm not going to worry about this myself – but I think it is better to know these things in advance.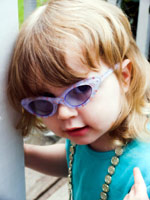 People diagnosed with celiac disease as children are more likely to die younger.
A long-term study by doctors at the University of Nottingham (read it at Medscape – I found it at celiac-disease.org) indicates that children diagnosed with celiac disease have a threefold increased risk of longterm mortality, in contrast with adults diagnosed with the disease, where the long-term increase of mortality is small.
Obviously everybody's individual risk of mortality is 100% – we are all going to die sometime. What the study shows is that these children are more likely to die early.
The study identified celiacs in 1979, and tracked them until death or the end of 2004 (a few were lost to the study due to emigration or other movement), and the causes of any deaths in that time were analysed.
You will know that some of us are expected to die each year from a variety of causes – insurance companies study this very carefully to manage their risks, and make money by getting this right.
The study found that the rate of death was higher than expected for everyone in the study group – just a bit higher for the adults, but significantly higher for the children.
The doctors found that the "excess mortality" – extra deaths – for those people diagnosed as adults was mostly due to gastrointestinal cancers or lymphomas. For those diagnosed as children the extra deaths were due to accident, suicide and violence – as well as […]