Have you tried the new Genius bread available here in the UK yet?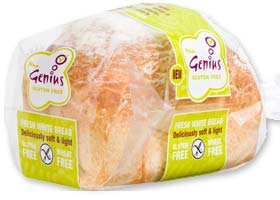 It's been available for a couple of weeks now, but you do have to be lucky enough to have a Tesco near you that stocks it.
My daughter is really enjoying it (so much so that we had to make another supermarket dash this morning). It is really very like 'normal' bread, and the brown has a nice malty taste. It is also not crumbly, and makes a good sandwich.
Disadvantages: it is expensive, no doubt about that. It is currently £1.99 during the introductory period, and will be going up to £2.49 in a month.
Also, the brown loaf we had last week had an uncooked section but, as we all know, that sometimes happens to 'normal' bread too.
I have asked Genius whether they were hoping to get it on the prescribables list, but haven't had an answer yet. If I get one, I'll let you know.
Tesco are currently the only place that have it – I do hope that changes! – and they seem to have a stocking problem. After finding the first (brown) loaf, I went back to buy more, only to find that all five loaves on the shelf were out-dated. I took one to customer services, to ask when more would be arriving, only to find that because there were still five on the shelf, the computer thought they were still in stock, so hadn't ordered any more – and because the ones on the shelf were past their sell-by, Tesco wouldn't sell one to me … Husband thought I should have asked them to give it to me instead […]