I've been validated, as they say …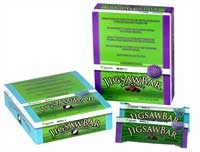 Very excitingly, a package arrived for me in the post this morning, with some Jigsaw bars for us to taste and review. We live rurally, and I work at home, so the postman bringing letters is exciting enough – and is a good excuse to move away from my desk – but with a parcel! For me!
I daresay this kind of thing happens at your place all the time, but this is my first invitation to create some buzz around a product. And you know what? It means that someone out there at Jigsaw has found my blog AND thinks that my opinion is worth adding to the marketing mix. I'd think I'd better go and have a lie-down …
It also means that Jigsaw have understood the importance of word-of-mouth marketing (or word-of-blog marketing). Good for them – my feeling is that there is definitely a community of the gluten-free, and that word spreads fast, whether by blogs, forums or even just old-fashioned talking.
Coeliac daughter has gone off to school with a bar in her gluten-free packed lunch – no doubt there'll be some feedback later from her and her non-coeliac friends about the bars. When a few have been sampled, I'll let you know what we think – positive or negative.
In the meantime – have you tried them yet?
| | | |
| --- | --- | --- |
| | | I've written a book summarising what we've learnt over 20 years of dealing with the gluten free diet, and it might be just what you're looking for. It packs the lessons we've learned into what I hope is a helpful and straightforward guidebook. It's available on Amazon, as a paperback or for your Kindle… |