Why should you consider advertising your product or service with us?
Free From is aimed at people interested in living gluten free, and in raising a coeliac child. We discuss the day to day issues and the impact of the big political issues, highlight new products and places to eat – we don't do recipes (one or two might sneak in, but the focus is on dealing with the issues of gluten free life).
According to Alexa, Free From's primary demographic is women aged 35-44, with children, who browse from home. Is this likely to be your target market?
The average number of page-loads per month over the last three months is 22,800, with over 17,100 unique visitors a month.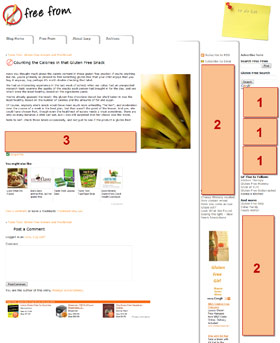 Advert placement
Options for ad-placement on Free From are:
1. 125 x 125 block ad at top of sidebar (currently 3 available, vertically stacked, all above the fold, sitewide)
2. 120 x 600 skyscraper in sidebar (first or second sidebar, sitewide)
3. 468 x 60 banner at bottom of a post (no more than 3 available, randomly rotating)
Options 1 and 2 are sitewide, and so are displayed 22,300 times per month on current figures. Option 3 is displayed fewer times, given the random rotation, though could appear multiple times on a page with multiple posts.
It is possible to choose to have adverts displayed only to US visitors, or only to UK visitors; just let me know and we can discuss this. Most of my visitors come from one of these two countries.
Pricing
| | | | |
| --- | --- | --- | --- |
| Type of ad | Price per month (£) | Price for three months (£) | Price for six months (£) |
| 1. Block (125 x 125) | 20.00 | 50.00 | 90.00 |
| 2. Skyscraper (120 x 600) | 30.00 | 75.00 | 130.00 |
| 3. Banner (468 x 60) | 15.00 | 40.00 | 65.00 |
Please note that these figures are exclusive of VAT. Do contact me if you'd like to discuss longer-term arrangements.
Obviously, this is going to work best for both of us if your product or service is truly suitable for people living gluten free.
I think this represents a very good deal; if you're interested, please do contact me to discuss it, with no obligation on either side – let's talk.
Review Policy
I am often approached by companies wishing me to review their gluten free products. I don't write paid reviews, but do occasionally accept product samples for review.
If you have a product for review, then please bear the following in mind before approaching me:
I will only review products that may be appropriate for people on a gluten free diet
I am based in the UK, and therefore sending me a product sample may not be appropriate (your product may be heavy, perishable, or crushable)
I do write review posts, but will not guarantee to review a product. If I think it is a poor fit for my readers, or I just don't like it, I may simply not review it
The samples will not be returned – usually because we've eaten them!
A review post will be scheduled along with other posts, and so will appear on the front page for a while, until superceded by later posts
A review post will include a link to your website, if you provide one.
If you're still interested in sending me a sample, please contact me with a product description; if it interests me, I'll reply with a shipping address.