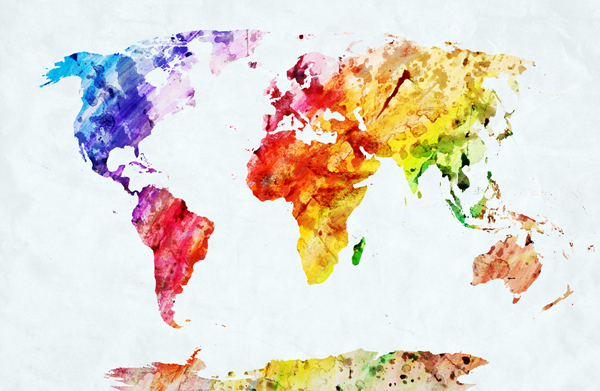 I had a question from India recently, about how to get started with a gluten free diet, so I searched for a coeliac society in India. Then Coeliac Daughter asked me to find out how easy it would be for her to eat gluten free in Malaysia and Singapore.
I thought it might be helpful to start collating a list of national coeliac (celiac) societies, gluten free groups, or other helpful sites, for people living in, or visiting, those countries. Some of these are Facebook pages set up by individuals or groups where there isn't yet a national society (that I can find, anyway).
No doubt this list will grow as I find more over time, but here's a start.
AOECS is the Association of European Coeliac Societies
Coeliac Youth of Europe
A B C D E F G H I J K L M N O P Q R S T U V W X Y Z
A
Afghanistan
Albania
Algeria
Andorra: Celíacs d'Andorra
Angola
Antigua and Barbuda
Argentina: Asistencia al Celiaco de la Argentina – ACELA
Asociación Celíaca Argentina
Armenia
Australia: Coeliac Australia
Austria: Österreichische Arbeitsgemeinschaft Zöliakie
Azerbaijan
Back to top
B
Bahamas
Bahrain
Bangladesh
Barbados
Belarus
Belgium: Société Belge de Coeliaquie
Belgium: Vlaamse Coeliakie Vereniging
Belize
Benin
Bhutan
Bolivia
Bosnia and Herzegovina
Botswana
Brazil: Asociación de Celiacos de Brasil – ACELBRA
Brunei
Bulgaria
Burkina Faso
Burundi
Back to top
C
Cabo Verde
Cambodia
Cameroon
Canada: Canadian Celiac Association
Central African Republic
Chad
Chile: Fundacion Convivir
China
Colombia: La Fundación colombiana de celiacos
Comoros
Congo, Republic of the
Congo, Democratic Republic of the
Costa Rica: Asociación Pro Personas Celiacas de Costa Rica
Cote d'Ivoire
Croatia
Cuba
Cyprus
Czech Republic: Czech Coeliac Society
Back to top
D
Denmark
Djibouti
Dominica
Dominican Republic
Back to top
E
Ecuador
Egypt
El Salvador
Equatorial Guinea
Eritrea
Estonia
Ethiopia
Back to top
F
Fiji
Finland
France: Association Française Des Intolérants Au Gluten
Back to top
G
Gabon
Gambia
Georgia
Germany
Ghana
Greece
Grenada
Guatemala
Guinea
Guinea-Bissau
Guyana
Back to top
H
Haiti
Honduras
Hungary
Back to top
I
Iceland
India: Celiac India
Indonesia
Iran: Iranian Coeliac Disease
Iraq
Ireland
Israel: Celiac Association of Israel
Italy
Back to top
J
Jamaica
Japan
Jordan
Back to top
K
Kazakhstan
Kenya
Kiribati
Kosovo
Kuwait
Kyrgyzstan
Back to top
L
Laos
Latvia
Lebanon
Lesotho
Liberia
Libya
Liechtenstein
Lithuania
Luxembourg: L'Association Luxembourgeoise des Intolérants au Gluten (A.L.I.G.)
Back to top
M
Macedonia
Madagascar
Malawi
Malaysia
Maldives
Mali
Malta
Marshall Islands
Mauritania
Mauritius
Mexico: Asistencia al Celíaco de México – ACELMEX
Micronesia
Moldova
Monaco
Mongolia
Montenegro
Morocco
Mozambique
Myanmar
Back to top
N
Namibia
Nauru
Nepal
Netherlands: Nederlands Coeliakie Vereniging
New Zealand: Coeliac New Zealand
Nicaragua
Niger
Nigeria
North Korea
Norway: Norsk Cøliakiforening (NCF)
Back to top
P
Pakistan: Pakistani Celiac Society
Palau
Palestine
Panama: Fundación de Celiacos de Panama (FUCEP)
Papua New Guinea
Paraguay: Fundación Paraguaya de Celiacos – FUPACEL
Peru: Asociación de Celiacos del Peru
Philippines
Poland
Portugal
Back to top
R
Romania
Russia
Rwanda
Back to top
S
St. Kitts and Nevis
St. Lucia
St. Vincent and The Grenadines
Samoa
San Marino
Sao Tome and Principe
Saudi Arabia: Saudi Celiac Patients Support Group
Senegal
Serbia
Seychelles
Sierra Leone
Singapore
Slovakia
Slovenia: Slovensko Drustvo za Celiakijo
Solomon Islands
Somalia
South Africa
South Korea
South Sudan
Spain: Federación de Asociaciones de Celiacos de España (FACE)
Sri Lanka
Sudan
Suriname
Swaziland
Sweden: Svenska Celiaki Forbundets
Switzerland: Association Suisse Romande
de la Cœliakie (ARC)
Syria
Back to top
T
Taiwan
Tajikistan
Tanzania
Thailand
Timor-Leste
Togo
Tonga
Trinidad and Tobago
Tunisia: Association Tunisienne de la Maladie Coeliaque
Turkey: Cölyakla Yasam Dernegi
Turkmenistan
Tuvalu
Back to top
U
Uganda
Ukraine
United Arab Emirates: Gluten Free – U.A.E
UK Coeliac UK
USA Celiac Disease Foundation
USA: Celiac Sprue Assocation
Uruguay: Asociación Celíaca del Uruguay – ACELU
Uzbekistan
Back to top
V
Vanuatu
Vatican City (Holy See)
Venezuela: Fundación Celiacos Venezuela
Vietnam
Back to top
Y
Yemen
Back to top
Z
Zambia
Zimbabwe
| | | |
| --- | --- | --- |
| | | I've written a book summarising what we've learnt over 20 years of dealing with the gluten free diet, and it might be just what you're looking for. It packs the lessons we've learned into what I hope is a helpful and straightforward guidebook. It's available on Amazon, as a paperback or for your Kindle… |