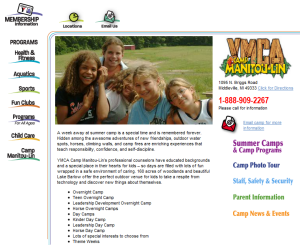 I've just discovered this email lurking in the swamps of my inbox… Many apologies to Nicole, who sent me the information ages ago.
I'll post her email in full, in an attempt to make up for my failure to spot it earlier, and to tell you about it. She says:
Hi,

I'm working on the Gluten Free camp at Manitou-Lin in Middleville Michigan. Our campers have their own kitchen that will be contamination safe and will have a food specialist overlooking the menu and meal preparations. Here is the information:
August 16 (Sunday) – 21 (Friday)

$450 is our grand camp fee for 2009, and $75 deposit is required to hold a spot. Checks made out to Camp Manitou-Lin sent to
Nicole VanZwoll
3614 Ridgefield Rd.
Lansing, MI 48906

The full amount (and paperwork) is due two weeks before camp, on August 2, 2009

Ages 7 – 14 (Co-ed) Each to their own cabins.

If you have questions about this, do e mail me at glutenfreemichigankidscamp[at]yahoo.com

GLUTEN FREE CAMP ROCKS at Camp Manitou-Lin!!
www.campmanitou-lin.org
This does look like fun. If you're interested, please contact Nicole direct – I do hope it's not too late to apply!