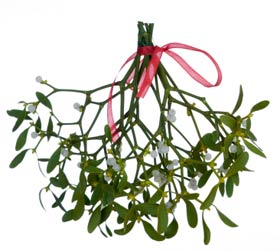 I hope it's not too late for this, given we discussed staying gluten free at The Office Christmas Party yesterday…
Here's a question that occasionally crops up: gluten free Christmas kisses.
"Is it OK to kiss my girl/boy friend if s/he has been eating cake or drinking beer?"
I think the chances of consuming gluten "second-hand" like this are fairly slim, but:
If this is you, then perhaps you'll have to ask your partner to brush their teeth… sometimes difficult, I know! Another option sometimes suggested is to invite them to drink something gluten-free (juice, perhaps, or water). And do check that facial hair…
You don't want to be ill over Christmas, do you?
On a slightly happier note, here are some links to Christmas kisses that are definitely gluten free:
Watch out for that mistletoe…
| | | |
| --- | --- | --- |
| | | I've written a book summarising what we've learnt over 20 years of dealing with the gluten free diet, and it might be just what you're looking for. It packs the lessons we've learned into what I hope is a helpful and straightforward guidebook. It's available on Amazon, as a paperback or for your Kindle… |