Today's thought is about 'all the trimmings'. Here in the UK – and maybe wherever you are – the traditional Christmas meal involves a roasted bird (turkey or goose, usually) and 'all the trimmings':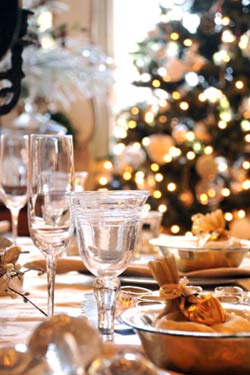 stuffing – usually chestnut, sausagemeat or herb and onion
bread sauce
cranberry sauce
gravy
sausages
bacon – either around the sausages or draped on the bird
roast potatoes
vegetables – usually the annual outing for the Brussels sprouts, and always parsnips
Where are the gluten traps in this meal? You'll need to consider all the following:
the stuffing: you'll probably need to make this yourself, though it is possible to buy packet gluten free stuffing (Goodness Direct offer AllergyCare and Barkat stuffing mixes). As a rule, though, stuffing is made with breadcrumbs, so just replace the bread with gluten free bread… Here are a couple of recipes to try:
the bread sauce: you'll need to make this yourself, if you really want it. I've done it, and it's easy enough, though I don't see the point of bread sauce myself – though the spices smell good. Anyway, here's a recipe for you: gluten free bread sauce from Genius
the gravy: homemade gravy will be OK if you use gluten free flour to thicken it; packet gravy, however, is risky. Read the label.
the sausages: unless your sausages are extremely high quality, or marketed as gluten free, these are high risk. Check, check and check again. Try:

And of course Marks and Spencer, who were for years the only place, locally, where I could find a gluten free sausage.
Do try your local butcher or farm shop – it's good to shop locally if you can, and you just might be lucky.

the potatoes: just occasionally, I hear of people who toss par-boiled potatoes in flour before roasting, in order to make them crispy. If you must do this, obviously, you should be using a gluten free flour.
You're unlikely to come a cropper with the cranberry sauce, bacon or vegetables, unless you're using an unusual recipe. Meat, fruit, and vegetables themselves are gluten free, but battered or breaded vegetables are unlikely to be – unless you've made them yourself. Traditionally, though, vegetables at Christmas are simply cooked.
Since many in our Christmas group don't eat meat, we'll be coming up with a vegetarian alternative. I'm just not sure what it will be yet…
| | | |
| --- | --- | --- |
| | | I've written a book summarising what we've learnt over 20 years of dealing with the gluten free diet, and it might be just what you're looking for. It packs the lessons we've learned into what I hope is a helpful and straightforward guidebook. It's available on Amazon, as a paperback or for your Kindle… |