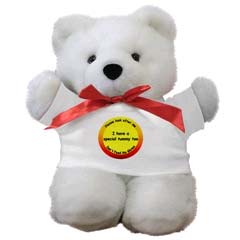 I know I have a bear available for coeliac disease (over in the righthand column – his t-shirt says 'Please look after me – I have a special tummy too'), but here is another fab idea:
The Westchester County Celiac Sprue Support Group will send one of its three Gluten-Free Traveling Bears (called Buckwheat, Quinoa, and Teff) to spend three days with your gluten free child anywhere in America. Each bear comes with its own bag, a disposable camera and games to play, as well as information about living gluten free, and some recipes using that bear's grain).
While the bear is staying with you, he expects to go with your gluten free child to school, parties, Brownies – wherever your child is going. You could plan special presentations to explain the gluten free diet during the bear's visit – or just let the bear help the child explain his or her special tummy.
There is a website where children can see maps that track the bears' travels, pictures of places the bears have been, and letters from children the bears have visited. The Westchester Support Group asks for a $25 donation for the bear's visit. As far as I can see, though, only Buckwheat has done much travelling so far!
This is a wonderful idea. Each of my children has been responsible for a bear (one year it was Stuart Little, so a mouse rather than a bear) that has come home from school for a weekend (when they were in Reception, i.e. aged 4 or 5), and we've taken pictures of the bear enjoying family life with us, and written about his stay in the bear book, which went back to school with him. They have loved it, so I can see how popular this scheme would be. And it is such a good idea to let these bears broach the subject of living gluten free, because this can be difficult for some children to mention.
Thanks to Nancy for alerting me to this … definitely an idea worth spreading.
| | | |
| --- | --- | --- |
| | | I've written a book summarising what we've learnt over 20 years of dealing with the gluten free diet, and it might be just what you're looking for. It packs the lessons we've learned into what I hope is a helpful and straightforward guidebook. It's available on Amazon, as a paperback or for your Kindle… |