Once again we're sending our coeliac daughter off to Girl Guide camp – this one just for the weekend.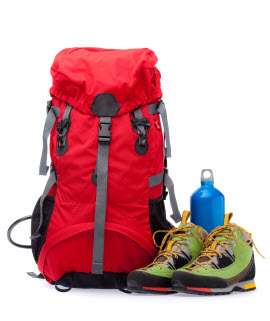 As you might expect, the quartermaster is unflappable, and wasn't at all fazed by the addition of a coeliac to the party at late notice.
We'll send basics (bread, a pizza base, and some cake) and in this case also some gluten free soy sauce, because they'll be cooking Chinese-style one evening, and will make her a gluten free version of her own.
It's always reassuring to know that the person catering for your coeliac child has some knowledge of the issues involved. In this case the quartermaster's father is coeliac. But first hand experience isn't essential, and a little bit of preparation and (maybe) education is all that's needed.
If you're worried about sending your coeliac child away for camp or a school residential, here are my top tips:
discuss the meal plan with the caterers if possible, and/or with the party leader. Don't alarm them with visions of a life-threatening reaction, but don't dismiss it either. it's not a fad diet, and it's not optional. Do consider sending the caterers details of the Coeliac UK guidelines for caterers if they sound unsure.
send a letter with the details to the caterers/party leader. Feel free to download and edit this letter to schools.
be prepared to send supplies with your child (and don't forget the snacks-between-meals!)
try to be calm and relaxed about it in front of your child. It's natural to be concerned, especially if it's their first trip away without your supervision. But you do want them to enjoy the trip, and catering details shouldn't interfere with their fun!
Increasingly, I find, people are aware of the coeliac diet, but just sometimes they might like a little clarification, and the more you can help, the smoother the trip will go for everyone.
| | | |
| --- | --- | --- |
| | | I've written a book summarising what we've learnt over 20 years of dealing with the gluten free diet, and it might be just what you're looking for. It packs the lessons we've learned into what I hope is a helpful and straightforward guidebook. It's available on Amazon, as a paperback or for your Kindle… |