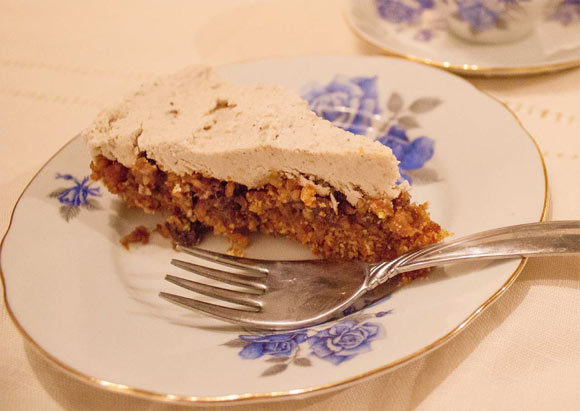 We're really not a raw food household. We eat some food raw, of course: salad vegetables, fruit, nuts and seeds. But I do typically use heat to cook with.
For some reason, though, I was intrigued to see the new recipe book by Juliette Bryant called Divine Desserts; it's full of gluten free and vegan (so also dairy free) superfood desserts. And most of them are raw. I was sent a copy to review, so I thought I'd try one of the recipes as an experiment.
I made the Raw Apple Pie, and served it to a group of hungry young adults and teenagers. And it was astonishingly successful!
There were a few dubious faces before they'd tried it—"what do you mean, raw? Raw apple pie?"—and I know that some of the guests only accepted a piece to be polite.
And it has to be said that it wasn't the most beautiful and delicate dessert I've ever made. (How is it that my results never look as lovely as the professionals? The picture at the top is of Juliette's version…)
But they genuinely loved it—they wolfed it down—and came back the next day for more. As did I! It tastes of Christmas, somehow… and although my attempt wasn't beautiful, it was appealing to look at and tasted wonderful.
We're going to try the Raw Berry Cheesecake next, but I'll definitely be making the Apple Pie again, and I have permission to share the recipe with you. If you try it, do let me know what you think!
Raw Apple Pie
Base
100g ground almonds
100g ground seed mix
100g dates
1 tblsp maple syrup
½ inch ginger root

Middle Apple Layer
4 apples, chopped
1 cup coconut sugar
2 tsp of cinnamon
2 tsp of mixed spice
100g raisins
100g dates
Topping Cream Layer
100g soaked and drained cashew nuts
½ cup coconut milk
1 tsp vanilla
For the base place all the ingredients in a food processor and blend into a biscuit-like dough. Test that its wet enough by making some intoa ball and seeing if it stays. If not add a little more water. Pour into a silicone tin and firmly press it down so it is nice and compact. Plcace in the freezer to set for 20 mins.
For the apple layer, add all the ingredients intot he food processor and pulse it. Don't over blend, you don't want it too mushy. Pour on top of the base and place in the freezer to set for 20 mins.
To make the cream layer drain the pre-soaked cashew nuts and rinse. In the food processor place the last ingredients and whizz into a smooth cramy layer. You will ned to scrape down the sides a few times to get it all smooth. Then spread it evenly on top of the apple layer and leave to se tin the freezer for 30 mins.
Serve chilled from the freezer. And enjoy!
***
Juliette is doing a book tour at the moment, and if you're quick you'll be able to catch her this Saturday (30th) at Rawfest in Berkshire, where she'll be talking about the latest research into the relationship between super nutrition and health. And if you can't get to Sunninghill, you can find out more (and buy the book) via her website.
| | | |
| --- | --- | --- |
| | | I've written a book summarising what we've learnt over 20 years of dealing with the gluten free diet, and it might be just what you're looking for. It packs the lessons we've learned into what I hope is a helpful and straightforward guidebook. It's available on Amazon, as a paperback or for your Kindle… |