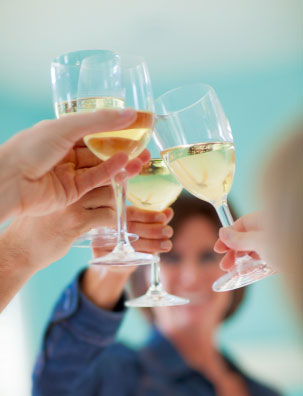 Finally home after an exciting jaunt to London for the Free From Foods Awards ceremony last night. You may remember that I was invited to judge a couple of the Awards categories a while ago, which was fun, so I was looking forward to the awards evening.
It turned out to be even better than I'd expected.
Imagine a room full of people with huge enthusiasm for free from food: tiny specialist companies and big retailers, journalists and bloggers, nutritionists and food development specialists, and add the party elements of delicious (and safe to eat) canapés, gluten free beer and wine… You can imagine the noise level!
It was a bigger event than I'd expected, and more international, too. There were around 150 people there – up from the 40 that the awards started with 5 years ago. It's obviously going from strength to strength, refining and adding to the categories for entrants over time. Next year, for the first time, there'll be a category for children's free from foods for example. Now that's something to look forward to!
And I had a lot of interesting conversations.
Did you know, for example, that Mrs Crimbles (Stiletto Foods) has 40 product lines? I didn't, as all I see are what my local stores will stock.
And as I moved around the room talking to as many different people as I could (I talked to about 35 different people, so I did pretty well) it became clear that there was a consistent theme to the evening.
Companies of all sizes face a problem in getting free from products in front of people like us, the end consumers. No […]