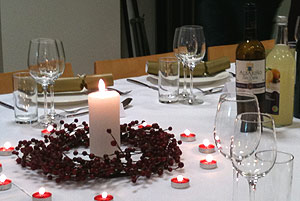 Bizarre as it sounds, given that this is still early October, I helped Sainsbury's cook a Christmas dinner last night.
Well, in theory. In practice I spent too much time chatting to the other guests to do much cooking, so the fact that we had a delicious meal is no credit to me.
Among many others, I chatted to Dena from Beautiful, Active, Nourished, a nutrition and health business based in South Manchester, where she runs clinics and also has a gluten free bakery/patisserie; and Kate, from Postcards from a Gluten Free Life. Kate recommended Bake A Boo in West Hampstead for afternoon tea; if I ever take my coeliac daughter to London (after a must-do trip to Sainsbury's in Pimlico, which apparently has the biggest gluten free range in the country), that's where we should go.
I also met Kirsty from Worthenshaws, whose new Freedom desserts won approval in the Dragons Den – they're now available across the country. Like many others, her son has a nut allergy and dairy intolerance; unlike almost all others, she decided to set up a business to create foods he could eat and enjoy.
I talked search engine optimisation with Darren from PHD, and social media with Hayley from Dare. And it was good to meet the Sainsbury's team, some of whom I met in February.
I wish I'd had more time to talk to the other gluten free bloggers – such an interesting mix of people. Do go and check out http://www.glutenfreemrsd.blogspot.com, for instance,and http://www.theparticularkitchen.com/.
Apart from all the talking, we produced between us (though the Sainsbury's Try […]