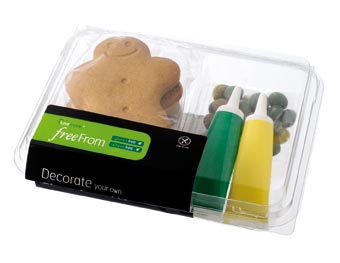 Is it just me?
Am I the only one ever reduced to tears in the free from section in the supermarket?
It happened again, just last week, when I found Lovemore Gingerbread Men in Sainsbury's. As you can see from the image, it's a box containing four charming gingerbread men, some dairy-free chocolate beans (looking very like Whizzers – less colourful than Smarties, which as you know are not gluten free) and a couple of tubes of writing icing. Not really the kind of thing to make a grown woman cry, is it?
Those poor supermarket staff. Perhaps they should hand round a box of tissues on the shelves in the free from sections, as they used to in the cinema during romantic films when I was a teenager…
I bought them. You know I always buy these things, partly because we like to try them, and partly to encourage the supermarkets and the manufacturers by demonstrating that Yes there IS a demand for these things.
And there is a demand.
Oh yes. Even though my coeliac daughter is now approaching 14, she was thrilled. She carefully decorated each gingerbread man in turn, and ate them all, except for a gingerbread leg she gave me to taste. Like the chocolate fingers we found in the summer, this is exactly the kind of thing I wish we'd had 10 years ago.
They are expensive, of course, but I'd buy them again for a party or for a special treat. The gingerbread itself is tasty; not as gingery as I like it, but then, I'm not the target market, am I? Well, I am, of course, being […]