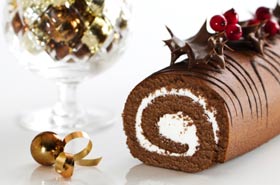 How about a gluten free Buche de Noel, or Yule Log?
This is a French tradition, and for those people who aren't really into dense fruit cakes – the traditional English Christmas Cake – an ideal alternative. These are chocolate flavour, but often include intense chestnut flavours too.
Do go over to Tastespotting, to see a selection of beautiful photos of Buches de Noel.
Here's a recipe from Dietary Specials using their gluten free chocolate cake mix, but for people who prefer to cook from scratch, here are some more complex recipes:
But I think this, from Gluten a Go Go, has got to be the winner: do go and admire – it is beautiful, chestnut and chocolate with marzipan mushrooms.
Look how many classic Christmas flavours these recipes manage to amass between them: chocolate, chestnut, walnut, hazelnut, oranges and marzipan. Yum… Go on, give it a try; don't hold back, because the lumpier and bumpier it is, the more it will look like a log. (That's my kind of cooking).
| | | |
| --- | --- | --- |
| | | I've written a book summarising what we've learnt over 20 years of dealing with the gluten free diet, and it might be just what you're looking for. It packs the lessons we've learned into what I hope is a helpful and straightforward guidebook. It's available on Amazon, as a paperback or for your Kindle… |