Sweet yeast breads are often associated with religious festivals; think of the hot cross buns we devour here in the UK at Easter. At Christmas, our European friends enjoy this kind of bread, while our special treats tend to be based on mincemeat; here are two examples of Christmas sweet breads: panettone and stollen.
Panettone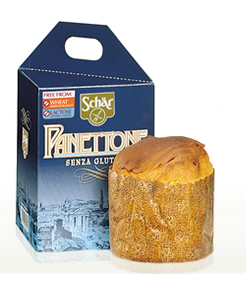 For many people, whether from Italy or not, pannetone is a vital part of the Christmas tradition.
Panettone is a sweet yeast bread, made in a special tall mould or deep cake tin, and seems to provoke love/hate reactions (rather like Marmite!). It usually looks beautiful, studded with candied or dried fruits, and I think needs to be drunk with a sherry or dessert wine to bring out the flavours, though some people like it with mascarpone. Perhaps both would be ideal? (Now there's an idea).
Schaer have been producing a gluten free panettone for a few years now – in two varieties, one with and one without chocolate chips – and the plain version is available in Sainsbury's. Yes, we've bought one. (Note: this one is also free from lactose).
I'm interested that Schaer have made one with chocolate chips, and not with dried fruits, because I thought the traditional panettone have fruit in them. But I've never seen their chocolate chip one on a Sainsbury's shelf.
If you don't want to trek to Sainsbury's (the only place I've seen gluten free panettone this year) then here are a couple of recipes for you to try. No guarantees, because gluten free yeast cooking is tricky, in my view, but these look good to me:
Stollen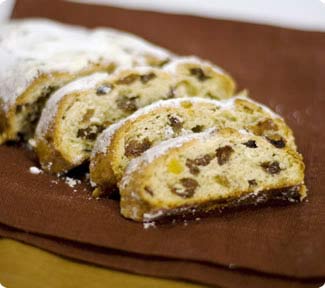 And how about stollen? Another sweet yeast bread, this time from Germany, and again, this is a significant part of the Christmas tradition. This one too, is made with candied or dried fruit, nuts and spices, and often with marzipan too (we love marzipan here).
I haven't found anywhere to buy gluten free stollen this year, so here are a couple of recipes for you to try – interestingly, all from gluten free manufacturers:
For those other marzipan fiends out there, the Schar recipe shows you how to add in the marzipan…
| | | |
| --- | --- | --- |
| | | I've written a book summarising what we've learnt over 20 years of dealing with the gluten free diet, and it might be just what you're looking for. It packs the lessons we've learned into what I hope is a helpful and straightforward guidebook. It's available on Amazon, as a paperback or for your Kindle… |