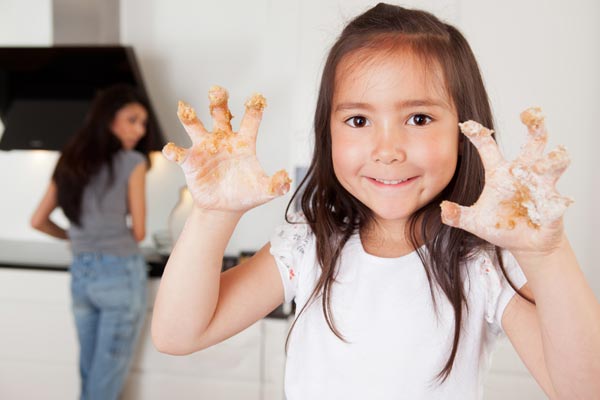 Coeliac Daughter is home from university for the holidays, and fancied baking at the weekend. So, it being nearly Easter, she decided to have a go at making gluten free hot cross buns.
We've tried making hot cross buns before, and never been very successful, but this recipe worked surprisingly well. The original is available on the UDI site, but we made some amendments based on what we had available…
Ingredients for gluten free hot cross buns
3 1/4 cups gluten free flour mix – we used Dove's plain white flour, available from supermarkets here in the UK.
4 tablespoons sugar
2 1/2 teaspoons yeast
2 1/2 teaspoons xanthan gum
1 teaspoon cinnamon
1 teaspoon salt
1/2 teaspoon each: ginger and nutmeg
1 1/2 cups milk
3 eggs
4 tablespoons melted butter
2 teaspoons pure vanilla extract
1 cup of dried fruit or other goodies – we used 1/2 cup sultanas and 1/2 cup of chocolate chips to create two different kinds of buns, but I think that dried cranberries would be nice too
1/4 teaspoon instant yeast
1 tablespoon water
Egg wash (Mix 1 egg with 1 tablespoon milk)
Icing:
1/2 cup icing sugar
2 teaspoons water.
Directions
Mix all the dry ingredients (except for the dried fruit or chocolate chips).
Mix all the wet ingredients and then add them to the mixed dry ingredients.
Split the dough into two bowls and fold the sultanas into one half, and chocolate chips into the other half. (Of course, if you just want to make one batch in a single bowl, that's fine).
After mixing dough thoroughly, cover the bowl(s) and refrigerate for a couple of hours. (The UDI instructions say overnight but we couldn't wait).
When you are ready to start again, dissolve 1/4 teaspoon of instant yeast in 1 tablespoon of water, and stir half into each bowl – or, or course, all of it into the one bowl, if you've not split yours into two.
Grease or line two 8″x8″ cake tins and place 9 balls of the dough into each one. We only have one 8*8 cake tin, so used that for half the dough and put the other half into an 8″ round cake tin – and it worked perfectly well.
Smooth out the tops of the buns and brush with the egg wash.
With a sharp knife, slice a shallow cross in the top of each bun. Let them prove (stand in a warm room or cool oven, covered with a clean teatowel) for about 15 minutes. Preheat the oven while they are proving.
Now bake the buns at 180C for about 30 minutes in the centre of the preheated oven and bake, turning during baking if needed, until the buns are golden brown and firm to the touch. Allow the buns to cool for about 10 minutes in the pan before transferring them to a wire rack to cool completely.
While the buns are cooling, mix together the icing sugar and water with a fork until the icing is smooth.
Once the buns have cooled, ice a cross on each bun. Traditionally, this isn't done with icing, but with a flour and water paste – but the icing does add a dash of sweetness to the buns which I rather like.
Don't forget the gluten free Simnel cake either – we're going to make one later this week…
| | | |
| --- | --- | --- |
| | | I've written a book summarising what we've learnt over 20 years of dealing with the gluten free diet, and it might be just what you're looking for. It packs the lessons we've learned into what I hope is a helpful and straightforward guidebook. It's available on Amazon, as a paperback or for your Kindle… |