A classic cake for Easter – what is it about Easter and chocolate?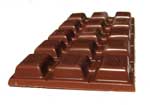 Ingredients – for the cake
200g or 7oz of dark chocolate (use a good one – say 72% cocoa solids)
5 eggs
250g or 8oz caster sugar
2 tsps instant coffee (dissolved in 2 tblsps hot water)
150g or 5oz ground almonds
Ingredients – for the icing
150g or 5oz dark chocolate as above
50g or 2oz butter
1 tblsp golden syrup
Preheat the oven to 180C/350F or Gas Mark 4, and grease a 9in non-stick spring-release cake tin.
Method
Gently melt the chocolate.
Separate the eggs and whisk the yolks and sugar together until thick and creamy.
Add the ground almonds, dissolved coffee and melted chocolate to the yolk/sugar mix and stir well.
Whisk the whites until they are stiff, and fold into the almond/egg yolk mix.
Pour into the prepared cake tin and cook for 30 minutes, then cover the top with foil and cook for another 20 minutes.
When cooked, leave in the tin for 5 minutes and then release from the cake tin ring. Let it cool completely on the cake tin base, then slide off gently with a palette knife.
Melt the icing ingredients together gently on a very low heat and mix until smooth and glossy.
Spread the icing all over the cake, and let it set for at least an hour before serving.
You can decorate this with mini eggs or with fluffy Easter chicks, if that's what you fancy.
| | | |
| --- | --- | --- |
| | | I've written a book summarising what we've learnt over 20 years of dealing with the gluten free diet, and it might be just what you're looking for. It packs the lessons we've learned into what I hope is a helpful and straightforward guidebook. It's available on Amazon, as a paperback or for your Kindle… |