Just over a year ago, I gave you my recipe for seville orange marmalade. Well, guess what? Seville oranges are back in season again …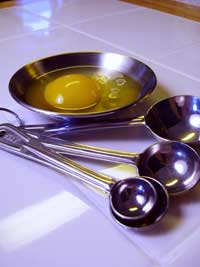 Yes, I made marmalade again, but I had a few oranges left over that I just couldn't fit into my preserving pan, and weren't quite enough to make a new batch of marmalade, so I needed something to use them up.
This is a great cake. Very adult, in that seville oranges are really bitter, so none of my children like it, so don't offer it at a children's birthday tea!
Seville Orange Cake
Ingredients for the cake:
150g gluten free white breadcrumbs
200g ground almonds
300g caster sugar (which might be called superfine sugar, in the US?)
3 teaspoons gluten free baking powder
8 eggs
400ml sunflower oil
4 Seville oranges
Extra ingredients for the topping:
100g caster sugar
handful of cloves
2 teaspoons ground cinnamon
Method
Preheat the oven to 180C or gas mark 4.
Mix together the breadcrumbs, ground almonds, sugar and baking powder. Add the eggs and oil, and mix gently.
Grate the zest from the lemon and oranges and add to the mixture.
Pour the mixture into a greased and lined 20cm cake tin, and bake for between 40 minutes and an hour – until the cake is firm.
Meanwhile, squeeze the juice from the lemon and oranges and put the juice, sugar, cloves and cinnamon into a pan. Boil, and then reduce the heat and simmer for about 3 minutes.
When the cake is cooked and cooled, pierce it several times with a skewer. Spoon the syrup over the cake, letting it soak in.
Serve by itself (delicious when warm) or with creme fraiche or greek yoghurt.
| | | |
| --- | --- | --- |
| | | I've written a book summarising what we've learnt over 20 years of dealing with the gluten free diet, and it might be just what you're looking for. It packs the lessons we've learned into what I hope is a helpful and straightforward guidebook. It's available on Amazon, as a paperback or for your Kindle… |