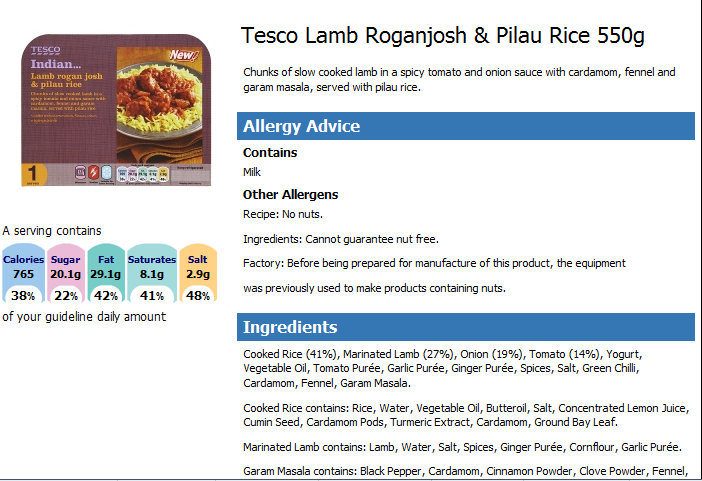 This came across my desk yesterday (so I hope you didn't settle down to a nice Tesco Lamb Rogan Josh last night!)
There are a couple of issues with Tesco's own brand Rogan Josh meals. The first is that somehow, in production, pork sausage has been added. As a result, the meals now contain wheat (and soya and sulphites).
The alert that I received was to let me know that there is wheat in the Rogan Josh meals; but I wonder whether they thought to alert people to the potential presence of pork? As we know, not everybody is happy to eat pork, and this might well be an issue for them. I wonder if the Food Standards Agency (FSA) issues Pork Alerts?
These are the affected ready meals:
Tesco Indian Meal for 2: Tikka & Lamb Rogan Josh, 1560g
Tesco Lamb Rogan Josh, 350g
Tesco Lamb Rogan Josh with Pilau Rice, 550g
All date codes of the above products are affected. (All! How long did it take them to notice that they'd accidentally been adding pork sausages to a lamb rogan josh?)
According to the FSA, Tesco has recalled the affected products and has contacted the relevant allergy support organisations, which will inform their at-risk members of the recall. Notices are being displayed in all stores to alert consumers.
Unfortunately, I can still buy this product online at Tesco, and there's no allergy alert associated with the product. There should be! The ingredients list doesn't mention pork sausages, nor wheat, soya or sulphites. Perhaps they would substitute the product before delivery – but I do think that if the product has been recalled, it shouldn't be on the site for purchase.
So, if you have some of these ready meals in your fridge or freezer, don't eat them, but take them back to Tesco for a refund.
| | | |
| --- | --- | --- |
| | | I've written a book summarising what we've learnt over 20 years of dealing with the gluten free diet, and it might be just what you're looking for. It packs the lessons we've learned into what I hope is a helpful and straightforward guidebook. It's available on Amazon, as a paperback or for your Kindle… |