You may remember that I blogged about receiving a copy of the Let's Eat Out series some time ago …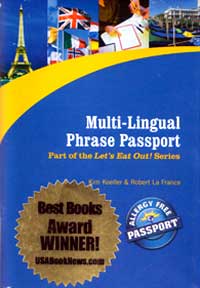 Husband and coeliac daughter are just back from a skiing holiday in Austria, and they took the Multi-Lingual Phrasebook
* with them.
They thought that overall, it was great, and a real help. Just having the book gave them more confidence going into a restaurant.
My husband suggested that you should practice the phrases beforehand to avoid (as he puts it) going 'bibble' at the key moment, and he also suggested that you should highlight (probably with a highlighter, though perhaps Post-Its would work) the key phrases that you would most commonly want to use, so that you could find them quickly.
They had a few comments:
that they needed a pocket English/German/etc dictionary to supplement the phrase book. At one point they phoned me (here in rural England) from a restaurant in Austria to ask me to translate a German phrase, which I did by searching on the internet – I don't speak German either.
that they would have liked guidance on how to read foreign language ingredient lists. For example, the ingredient lists on the back of chocolate bars were only in German and French. I could probably have managed to decode the French, but the German would have been completely beyond me, as it was them.
that they would have liked guidance on translating the standard phrases that appear on the back of packets (you know, "may contain traces", or "manufactured in a facility that handles wheat")
crucially, they would have liked 3rd person phrases as well as 1st person, or some guidance on how to modify the sentences. After all, he was describing his daughter, and isn't coeliac himself.
And my husband suggested that it would be helpful to add phrases such as:
Can you please check (with the chef) that this dish contains no gluten (wheat, rye or barley)
I think a pronunciation guide would be helpful too.
Overall, though, a thumbs-up, and I expect the book will be going with us when we go to France in the summer. Though both he and I are better at French than German …
*(affiliate link)
| | | |
| --- | --- | --- |
| | | I've written a book summarising what we've learnt over 20 years of dealing with the gluten free diet, and it might be just what you're looking for. It packs the lessons we've learned into what I hope is a helpful and straightforward guidebook. It's available on Amazon, as a paperback or for your Kindle… |