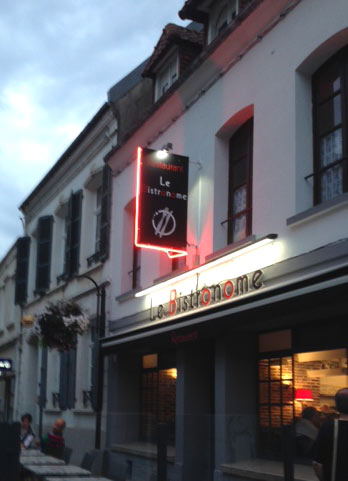 We're recently back from a camping holiday in France. Yes, thanks, it was great, though the tent was a bit leaky when it rained…
But the point of telling you this is that we had a meal out at our stopover point in Montreuil-sur-Mer.
We went to Bistronome, who were very welcoming to our party of 5 Brits, and entirely understanding about our need—explained in imperfect French—to check that the dishes Coeliac Daughter wanted to choose were gluten free.
Our waitress went to check with Chef, and indeed they were gluten free.
But imagine our delight later, when, completely unexpectedly, she brought not only bread for the rest of us – which we did expect – but a plate of gluten free French bread rolls for Coeliac Daughter.
And it was astonishingly good bread: crispy on the outside and soft in the middle, just as real French bread should be.
Coeliac Daughter ate four rolls … she was thrilled, having coveted proper French bread on holiday for years.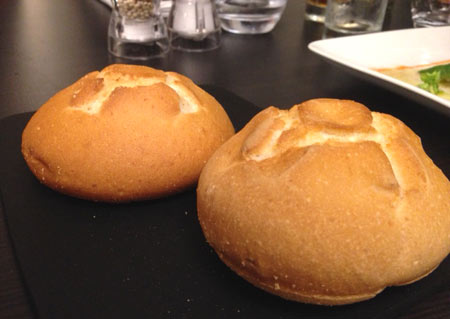 We tried to find out the manufacturer of these outstanding bread rolls, but it turned out to be someone local, making the rolls for the restaurant trade rather than for retail customers. What a shame! We'd have bought some to take away with us…
Bistronome is new, and if you happen to be visiting Montreuil, we can recommend it: the food was delicious. We visited again on the way home, and the gluten free French bread—and the welcome—was just as good.
| | | |
| --- | --- | --- |
| | | I've written a book summarising what we've learnt over 20 years of dealing with the gluten free diet, and it might be just what you're looking for. It packs the lessons we've learned into what I hope is a helpful and straightforward guidebook. It's available on Amazon, as a paperback or for your Kindle… |