I am quite overcome with joy.
We went on holiday – camping – in France. Because of a confusion over navigation on one of our supermarket outings, we ended up at a hypermarket we hadn't planned to visit: HyperU. I'm so pleased we went, because we discovered not only gluten free biscottes (biscottes are one of the small pleasures of a visit to France) but also gluten free chocolate fingers.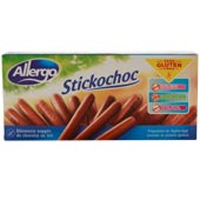 These are sold under the brand name of Allergo, and called Stickochoc. (Not a particularly French name, but then, they are a British tradition).
Now, for those of you not raised in the UK, this may not be terribly significant, but chocolate fingers are a British child's birthright, and appear at parties, picnics, tea-times… whenever a small treat is needed. 12 years in, this was the first time I'd ever seen gluten free chocolate fingers. And my daughter loved them. Absolutely loved them. Now, whether this is because of the intrinsic fabulousness of these chocolate fingers, or because they are such an iconic part of the British child's diet that she'd felt deprived over the last 12 years, I don't know, but as chocolate fingers go, these were pretty convincing.
So we set out to buy more – and yet, other hypermarkets didn't seem to stock them, or the smaller, supermarket sized outlets of HyperU (known imaginatively as SuperU). So on our last day, we went back to the original HyperU at St-Hilaire-de-Riez and cleared the shelves.
Being a good mother, on arrival back home, I scoured my usual gluten free suppliers with no luck, and then set to to compose an email in my long-outdated French to the manufacturers, Valpiform, to ask where I could buy these in the UK – because it wasn't possible to buy from the French website and have the products delivered to a UK address. Valpiform is a fairly well-known gluten free manufacturer based in France that sells into the UK, and their website did offer a specific contact email to use for enquiries about stockists in other countries.
Disappointingly, I haven't heard anything back from Valpiform.
But, The Times and Ocado have been running a promotion – save 25 mastheads from The Times, and get £25 off a groceries delivery from Ocado. I love Ocado, but they are more expensive than other supermarkets, and so this was a special treat.
And guess what? Ocado stock Stickochoc!
Though we haven't quite finished the 7 packets of Stickochoc we brought back from France, I've ordered 3 more from Ocado, to encourage them to continue stocking them. No sign of gluten free biscottes (also from Allergo/Valpiform), though Ocado does have their gluten free madeleines.
And I'm thrilled.
12 years in, and I still seethe with excitement at a new find. Hurrah for Ocado!
| | | |
| --- | --- | --- |
| | | I've written a book summarising what we've learnt over 20 years of dealing with the gluten free diet, and it might be just what you're looking for. It packs the lessons we've learned into what I hope is a helpful and straightforward guidebook. It's available on Amazon, as a paperback or for your Kindle… |