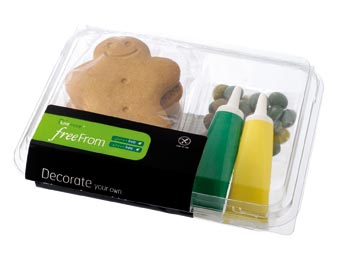 Is it just me?
Am I the only one ever reduced to tears in the free from section in the supermarket?
It happened again, just last week, when I found Lovemore Gingerbread Men in Sainsbury's. As you can see from the image, it's a box containing four charming gingerbread men, some dairy-free chocolate beans (looking very like Whizzers – less colourful than Smarties, which as you know are not gluten free) and a couple of tubes of writing icing. Not really the kind of thing to make a grown woman cry, is it?
Those poor supermarket staff. Perhaps they should hand round a box of tissues on the shelves in the free from sections, as they used to in the cinema during romantic films when I was a teenager…
I bought them. You know I always buy these things, partly because we like to try them, and partly to encourage the supermarkets and the manufacturers by demonstrating that Yes there IS a demand for these things.
And there is a demand.
Oh yes. Even though my coeliac daughter is now approaching 14, she was thrilled. She carefully decorated each gingerbread man in turn, and ate them all, except for a gingerbread leg she gave me to taste. Like the chocolate fingers we found in the summer, this is exactly the kind of thing I wish we'd had 10 years ago.
They are expensive, of course, but I'd buy them again for a party or for a special treat. The gingerbread itself is tasty; not as gingery as I like it, but then, I'm not the target market, am I? Well, I am, of course, being the mother of a coeliac, but the product isn't necessarily intended for me.
I contacted Lovemore, who kindly sent me a brochure (available here as a PDF to download.) and told me that they launched this line in Sainsbury's three weeks ago. Hurrah!
So why does this simple product render me tearful?
Perhaps because it reminds me of all the times I sent my daughter off to children's parties with her own party tea, all homemade, because there weren't any products aimed at children back then; all those parties where she ate food that was different.
Perhaps because I'm so thrilled that manufacturers are, at last, realising that there is a market out there: children who want special-diet products aimed at them, so that they can look the same, be the same, eat the same as their peers.
Perhaps because every product like this makes it easier for children like my daughter to visit a friend's house – and for friend's parents to feel able to cater for them.
Perhaps because these products are getting ever closer to 'normal' food; and that is what children want, after all, at a party tea: cakes and biscuits that they can share with their friends without those friends saying 'yuck'.
Lovemore, I love you. I wish you'd been there a decade ago.
| | | |
| --- | --- | --- |
| | | I've written a book summarising what we've learnt over 20 years of dealing with the gluten free diet, and it might be just what you're looking for. It packs the lessons we've learned into what I hope is a helpful and straightforward guidebook. It's available on Amazon, as a paperback or for your Kindle… |