Does your gluten free child love Bob the Builder?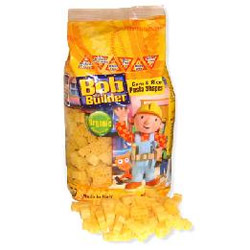 I remember when Bob and his gang were significant in our lives, and I so wish that this product had been around then. A decade ago I would have been thrilled to find some gluten free products designed for, and packaged for, children. And it is still a huge gap in the market …
I was still pretty excited this morning. Amazing how finding something new like this can make me feel quite teary in the supermarket. New to me, that is – I think it's been around for a while.
It's made by FunFoods4All, and as far as I can tell, is the only gluten free product they make. We found it in a big Tesco, but it's also available online (at Gluten Free Foods Direct, for example).
And it's actually a good product too. It's a corn and rice based pasta, with no additives or preservatives. We bought some (yes, of course we did!) and she had some tonight. There are a variety of shapes (Scoop, Muck and Dizzy, and Roley too, Lofty and Wendy join the crew), and they hold together remarkably well when cooked – and expand a lot!
Altogether now:
"Bob the builder
Can we fix it?
Bob the builder
Yes we can!"
| | | |
| --- | --- | --- |
| | | I've written a book summarising what we've learnt over 20 years of dealing with the gluten free diet, and it might be just what you're looking for. It packs the lessons we've learned into what I hope is a helpful and straightforward guidebook. It's available on Amazon, as a paperback or for your Kindle… |