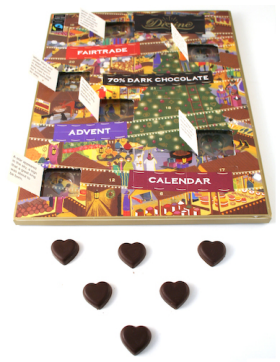 First day of Advent already… have you got an Advent calendar?
Even if you don't celebrate Christmas, these can be fun – and you could use them to count down to almost anything.
I like the old-fashioned Advent calendars, in which each door reveals a picture, but I know many people like the newer variety, in which each door reveals a piece of chocolate or other treat.
But which are gluten free? And are there any still available?
It's not too late to organise such a calendar, though you'll probably have to make it yourself. Here are a few ideas… Natural Collection still has some Divine Dark Chocolate Advent Calendars available at the time of writing (see picture – also available from Dietary Needs Direct)
And Dietary Needs Direct still seems to have some 'milky' chocolate advent calendars available for those of you who need dairy free and soya free as well as gluten free.
You could make your own advent calendar. My second daughter spent ages last night creating an advent calendar treasure trail for her older sister: each day has a tiny clue, and there is a chocolate hidden somewhere in the house for her to find.
And this is a site I just found today: D&D Chocolates, which are both gluten free and dairy free. They're offering shapes ideal for Christmas, and in particular, for Advent calendars – snowmen, Father Christmas and other Christmas shapes – though I'm rather taken by the dinosaurs.
Of course, the treats don't have to be chocolate. You could use any small sweet, so you could think about using some Divine chocolate coins or dairy free white chocolate buttons from Goodness Direct, or anything suitable you can find in your local supermarket. Just do be sure it is gluten free…
| | | |
| --- | --- | --- |
| | | I've written a book summarising what we've learnt over 20 years of dealing with the gluten free diet, and it might be just what you're looking for. It packs the lessons we've learned into what I hope is a helpful and straightforward guidebook. It's available on Amazon, as a paperback or for your Kindle… |