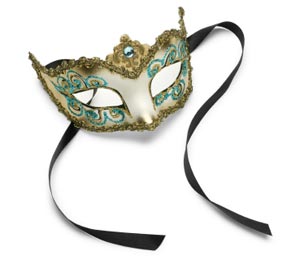 A couple of weeks ago we travelled down to Bath, for a family party. The party was great, but I wanted to give credit to a couple of establishments who did a great job for us.
This is where the party was held: about 100 people for a black tie & mask dinner. The children were invited, and found the whole formal dressing and mask thing very exciting. We'd told the club in advance that there would be a coeliac in our group, and introduced ourselves to the manager on arrival, so that the team knew who we were – and they did a great job of ensuring that our daughter's meal was virtually indistinguishable from everyone else's.
We started with some tasty nibbles: hummous on tiny toasts, olives and breadsticks. She was provided with her own plate of hummous on gluten free toast (no breadsticks, but that was fine), and her own dish of olives (exactly the same, just in a dedicated dish), to avoid crumb transfer. Later, the manager discreetly came over and told us that both main course choices on the menu that evening were gluten free – so she chose a Thai curry. And then – still very discreetly – we were told that although the chocolate brownie was not OK, the lemon meringue roulade was fine, because they'd used cornflour.
Praise is due to the Cumberwell Park Golf Club, because not only did they cater well for her, they did it discreetly and without fuss, so that there was no embarrassment involved. Hurrah!
2. The Garden Room Bed & Breakfast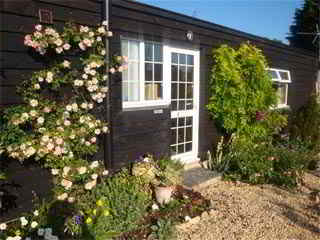 And this is where we stayed: delightful self-contained en-suite studio accommodation in a small village outside Bath. If I said it was in a garden – or even a smallholding – that wouldn't be too far wrong. It was lovely: friendly, welcoming, clean, and comfortable, and plenty big enough for the five of us. It was even stocked with some films for us to watch. We were completely self-contained, as there was a small kitchen area so we could prepare breakfast for ourselves. And this is, of course, the benefit for people who need to be gluten free: we could manage the diet without embarrassment or difficulty.
What a breakfast they'd provided: a range of cereals, fruit, croissants, toast, butter and preserves, eggs, bacon and sausages, fruit juices and milk. We don't all eat meat, but those that do had a wonderful breakfast – and the meat was from their own pigs. Usually the eggs are from their chickens, but the chickens aren't laying at the moment.
Our hosts didn't know we had a coeliac in the family, but because they provided a small cooker, we could cook her gluten free pain au chocolat and bread at will – and she enjoyed the rest of the breakfast. (Not the meat – and I didn't ask whether the sausages were gluten free).
It was fab. If you're planning on visiting the Bath area, I can recommend this as a place to stay.
| | | |
| --- | --- | --- |
| | | I've written a book summarising what we've learnt over 20 years of dealing with the gluten free diet, and it might be just what you're looking for. It packs the lessons we've learned into what I hope is a helpful and straightforward guidebook. It's available on Amazon, as a paperback or for your Kindle… |