Do your children like sausages?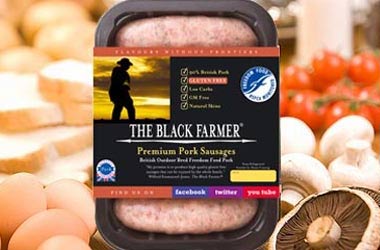 My younger two definitely do, so I took the opportunity to cook them some Black Farmer's Daughter's Chipolatas at the weekend, when we ended up with a group of 4 sausage-lovers who'd been ice-skating.
They ate the sausages with a chilli that my eldest made at school. My team will eat sausages with anything, but their favourite is sausages and mash, with gravy. The chilli went down OK, but not nearly as well as the sausages did!
The Black Farmer very kindly sent us the sausages to review; we seem to live in a wilderness when it come to their chipolatas – they're not stocked by any supermarket within 40 minutes drive nor available for delivery by any supermarket prepared to deliver to us. Yes, we're in a small village, but not that remote… We can (and do, regularly) get hold of the standard Black Farmer Premium Pork sausages, but I was particularly pleased to be able to try the chipolatas, because they're more of a children's sausage, being slimmer and less demanding.
Years ago, finding gluten free sausages was remarkably difficult. Marks and Spencer stocked them (sometimes), and a farm shop some miles away also stocked some, though they were strongly, and unusually, flavoured – very adult. Getting hold of GF sausages for my children was hard, and always required a special trip. And every single birthday party my daughter went to seemed to involve taking sausages…
In case you're very new to living gluten free, or live in a country where using rusk in a sausage is an extraordinary notion: the sausages typically available in the UK are not gluten free. They almost always contain wheat-based rusk. Always, always, check any meat product you buy that has been processed in any way – burgers are another danger zone, so be wary!
Back to the Black Farmer's Daughter chipolatas, though… It's tricky, asking a bunch of children for comments, particularly when they're hungry – there was absolute silence while the sausages were devoured. Silence is good, as it means the food is being enjoyed!
The comments from the children mostly were non-verbal – a thumbs-up – with the occasional 'brilliant!' and 'better than the usual ones'.
The one remaining sausage was eaten by an adult, who said that they thought the sausages were a good quality, staple sausage, with a good taste, but that they were designed for children rather than to an adult taste. Well – yes. That was the point of trying them, really.
One thing that my son misses, and which I haven't done for ages, is toad in the hole, and these sausages would work well for that. I'll try and remember to cook him some soon. After all, we've some British cooking traditions to uphold!
What I really love about The Black Farmer, his daughter and the sausages is the business strategy and marketing. How savvy is that, to identify that there is a gluten-free gap in the sausage market, and work to fill it so well? And the marketing is just fab: "gluten free sausages? Those will be the Black Farmer ones, then…"
Plus, they've some new products coming out soon, including the Daughter's mini sausages and sausage marbles.
Now those really are going to be wonderful for children's birthday parties.
Images taken from Black Farmer's website.
| | | |
| --- | --- | --- |
| | | I've written a book summarising what we've learnt over 20 years of dealing with the gluten free diet, and it might be just what you're looking for. It packs the lessons we've learned into what I hope is a helpful and straightforward guidebook. It's available on Amazon, as a paperback or for your Kindle… |