Newly diagnosed? If you have recently been diagnosed here in the UK, then, I strongly recommend that you contact the big manufacturers – the ones that provide prescription goods – and ask them for a sample pack. This means that you get to taste a variety of different items to find out which you prefer, and the manufacturers get to market their goods to you, to try and persuade you to put those on your prescription requests. The benefits are two-way, so don't be shy to ask.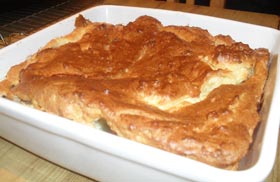 Glutafin sent us one of their welcome starter hampers recently, and a very generous hamper it is, too, containing flour mix, pasta, biscuits, crackers, a pack of sliced seeded bread and a pack of fresh white bread, several packs of bread rolls of various kinds, including part-baked. The hamper also contained several recipe cards and a storage device to hold them. I must admit to having been completely foxed by the storage thing: I thought it must be a ring-binder, and was struggling to make it work… Lucky we have children in the house, because our eldest sussed it out quite quickly, and turned it into a recipe holder – the sort that stands on your worktop and you can 'flip' the recipes over the top.
We haven't had Glutafin bread on my daughter's prescription for years, and she was pleasantly surprised, particularly by the fresh bread. You may know that these fresh breads are relatively new to market, and the bread options for coeliacs seem to be getting better all the time.
I made Toad in the Hole with the Glutafin flour mix, using one of the recipes in the file (the recipe is also available on their website), and sausages from The Black Farmer, and it worked very well indeed. All the children enjoyed it. It's been a long time since I bothered with Toad in the Hole, but I should definitely do it again soon, because it went down very well.
It struck me as an unusual recipe, though, and so I went back to review the standard recipe – as I thought, it is different. No milk, for one thing, though I expect you could use milk instead of water if you wanted. And the method is different, too. However, it was excellent, and – just like my Sainsburys experience – shows how resourceful gluten free cooks can be in experimenting to make recipes work, gluten free.
| | | |
| --- | --- | --- |
| | | I've written a book summarising what we've learnt over 20 years of dealing with the gluten free diet, and it might be just what you're looking for. It packs the lessons we've learned into what I hope is a helpful and straightforward guidebook. It's available on Amazon, as a paperback or for your Kindle… |