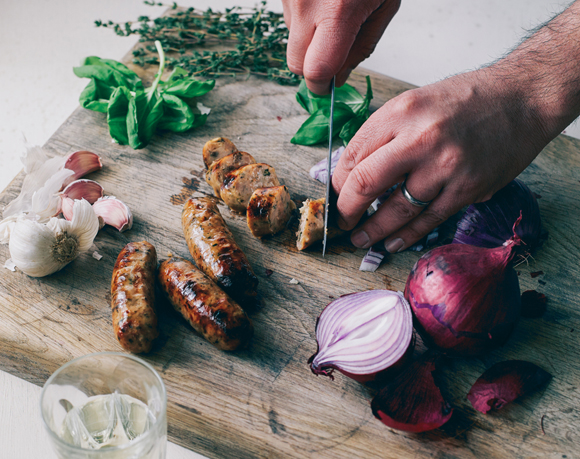 As well as having a vegetarian and a coeliac in our house, we also have members of the family who are trying to increase the amount of protein that they eat while reducing the amount of carbohydrate and fat. Yes, we have gym-bunnies…
This means that the types of food that we eat (and the recipes that we follow) have changed a bit over the last few months. We buy high protein yoghurt, and high protein granola, and those eating a high-protein diet are eating a lot more meat than they used to, and carefully examining the nutrition labels on the food we buy.
So I was very interested when I was contacted by two different companies, each offering a different take on good-for-you food: in this case, sausages.
Debbie & Andrew's sent some Clean and Lean High Protein chicken sausages. These are clearly perfectly targeted for my gym-bunnies, being both low in carbs and calories and high in protein (23g of protein per serving and only 1.8g carbs).
MOR sent a range of different flavoured sausages (Moroccan Spiced Pork, Cauliflower and Chickpea; Pork, Green Veg and Lentil; Chicken, Sundried Tomato and Basil; Pork, Beetroot and Bramley Apple). These are lower in fat than the average sausage, with added nutrient-rich ingredients. The amount of fat varies by flavour, but the chicken ones are as low as 4% fat, where an average sausage could be around 25%.
All these sausages are gluten free. Debbie & Andrews are a well-established brand of gluten free sausages, available across the country in a variety of supermarkets. MOR Food are so new that there isn't any information up on their website yet, but are launching today, in Tesco.
What did we think?
My youngest was horrified to discover peas in the MOR Pork & Green Veg sausages; he's never liked peas, and although the clue is in the name (green veg) it took him by surprise. I've never been able to disguise vegetables in food, even when the children were little. However, he absolutely loved the Moroccan Spiced Pork sausages—as did all those who tried them, including the one who doesn't like sausages—and is looking forward to trying the Chicken & Sundried Tomato ones later.
The Debbie & Andrew's sausages went down well too; these are significantly high in protein, which is exactly what the gym-team in our family are looking for—clean and lean. Now that our food-timetable includes a four o'clock protein meal for the gym-goers, I'm looking for easy ways to provide a protein top-up for them, and these would work.
Will we buy them again?
Yes, I will (maybe not the ones with peas in though!) because they tick lots of boxes for my mixed household: gluten free, high protein, low fat, nutrient-dense.
It is good to see manufacturers developing food that is Not Only But Also (not just gluten free, but has other benefits to offer).
| | | |
| --- | --- | --- |
| | | I've written a book summarising what we've learnt over 20 years of dealing with the gluten free diet, and it might be just what you're looking for. It packs the lessons we've learned into what I hope is a helpful and straightforward guidebook. It's available on Amazon, as a paperback or for your Kindle… |