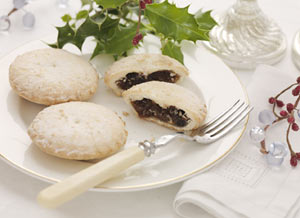 I know it's only the first week of October, but I've already eaten enough mince pies to have lucky months until April next year…
We were recently sent a box of the new Genius gluten free mince pies to sample, and I was very pleasantly surprised.
Surprised because occasionally some of the gluten free mince pies I've tasted in the past have been disappointing – hard pastry, a strong aftertaste, odd smell or unpleasant 'feel', or not enough mincemeat to the amount of pastry. The same is true of many 'normal' mince pies too, to be fair!
And because I've not been able to track down any of the new pastry from Genius yet, I wasn't expecting much.
But these are very nice indeed. In fact, I accidentally ate two today – I love a mince pie.
The mincemeat is excellent, and generously dolloped into the pastry shells. It is moist, with a good consistency, and clearly contains a variety of sultanas, currants and raisins. And there's a good taste of Bramley and spice. No mixed peel or chopped nuts, which do detract from a mince pie, in my view! And the mincemeat is vegetarian; another important factor. Not vegan: the pies do contain egg and milk.
If I was going to quibble, I'd say that the pastry was a little pale, but that was not a problem: it is soft and tasty, with no grittiness or aftertaste. (If you've eaten a lot of gluten free products, you'll know exactly what I mean here!) If the new pastry is anything like this, I'm going to redouble my efforts to find somewhere that will sell it to me.
These mince pies are definitely worth trying. They'll be available in Tesco from October 17th, apparently – I do hope this will include my own local Tesco, because I still need to eat myself happy for April-December 2012…
| | | |
| --- | --- | --- |
| | | I've written a book summarising what we've learnt over 20 years of dealing with the gluten free diet, and it might be just what you're looking for. It packs the lessons we've learned into what I hope is a helpful and straightforward guidebook. It's available on Amazon, as a paperback or for your Kindle… |