Yes, it's Coeliac Awareness Week here in the UK again, and local groups are organising events to promote awareness of this disease. The focus this year is on getting diagnosed.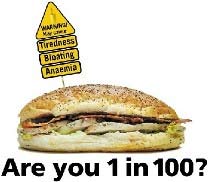 Here in the UK, it's estimated that as many as 1 in 100 people have the disease, and many – indeed, most – of these are undiagnosed.
According to Coeliac UK, it can take as long as 10 years from someone first presenting themselves at their doctor's surgery with symptoms for them to get a diagnosis.
Luckily, it didn't take us that long to get my daughter diagnosed – after all, that's almost her entire lifetime! We first became aware that something wasn't right at Christmas 1996, when she was just 1, and I took her to the doctor several times in the early part of 1997. Her symptoms worsened:
she lacked energy – she and I would sit on the floor at Tumbletots, me with my big pregnant belly, and her with her big swollen malnourished belly, and weep while the other toddlers played around us
she vomited at every meal – not a classic symptom, and one that the medics thought was irrelevant. But its not normal, is it?
she ate less and less, until she was eating only milk, grapes and chorizo (odd, I know – but naturally gluten free!)

her belly swelled until her belly-button everted (became an outie, not an innie)
her arms, legs and buttocks grew skinny

At one point she was wearing the same size nappy [diaper] as her 3 month old sister – at 21 months old – because the age-appropriate ones were too big for her bottom.

and her nappies were vile.

Oh, were they vile. If you've got CD, you'll probably recognise this – pale, frothy, so copious that they would overflow her tiny nappy and fill her shoes, and the stench could be detected from a different floor in the house, not just across the room.
After a while she was tested for giardia, and then for cystic fibrosis, and finally she had a blood test for coeliac disease followed by a biopsy. In autumn of 1997 we had a firm diagnosis and were allowed to change her diet.
And within a couple of weeks, we saw an extraordinary improvement in her health and energy levels – and she asked for food.
This tiny girl who had refused food, and vomited it up regularly, and who was unable to get the nourishment she needed from our everyday meals – now wanted to eat.
It makes me want to cry even now, 10 years on, just thinking about that day.
It took us 9 months – not 10 years – to get a diagnosis, and that's because our doctor knew about coeliac disease, and was prepared to consider it as a diagnosis. 9 months was just how long it took to get through the programme of tests and appointments.
We need more awareness of the disease, to ensure that people don't have to live with the symptoms for even as long as 9 months, never mind 10 years!
Who do you know who might be 1 in 100?
| | | |
| --- | --- | --- |
| | | I've written a book summarising what we've learnt over 20 years of dealing with the gluten free diet, and it might be just what you're looking for. It packs the lessons we've learned into what I hope is a helpful and straightforward guidebook. It's available on Amazon, as a paperback or for your Kindle… |