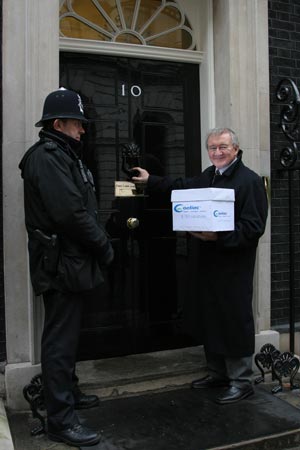 Dr Chris Steele handed in a petition to 10 Downing Street today, calling on the UK Government to help improve the diagnosis of coeliac disease – a condition with which he has just been diagnosed.
8,783 people (yes, including me – did you sign?) are asking the Government to find the half-million people in the UK at risk from undiagnosed coeliac disease by introducing a target for diagnosis to the GP contract. The idea is that setting targets changes behaviour (just as in any management situation) so if GPs have to list how many people they've diagnosed this year, they will actively be looking for the disease.
I'm not sure whether the idea is that they get paid on results, as they used to in some cases for vaccinations (and may still, for all I know), but that really doesn't matter for the individual who is diagnosed…
It is estimated that 1 in 100 people in the UK have coeliac disease, but that only 1 in 8 have been diagnosed. As you probably know, untreated coeliac disease can lead to infertility, multiple miscarriages, osteoporosis and bowel cancer – and the treatment is a gluten free diet.
Dr Chris Steele MBE is one of our television doctors (on This Morning, which I catch at my hairdressers every six weeks or so – I do remember that he was ill at some point before Christmas), and has been Ambassador of the charity for the last three years. He says:
"I have supported the need to raise awareness of diagnosing coeliac disease for many years but never thought that I would be diagnosed myself! It is a condition often over looked and misdiagnosed by GPs, which has resulted in half a million people in the UK currently undiagnosed. Consequently, people are suffering unnecessarily for many years which can also lead to an increase risk of osteoporosis and bowel cancer. There is also the possible increase cost to NHS caused through undiagnosis, by ongoing repeat visits by patients to their GP, and we also know of people having unnecessary operations such as gall bladder removal when a simple blood test could start the road to diagnosis; so I urge the Government to include a target for coeliac disease into the Quality and Outcomes Framework"
I think that finding those people who are as yet unaware that they have coeliac disease has got to be a good thing – as has speeding up the time to diagnosis. Targets are always difficult things to set, as people tend to act to fulfil the targets, so you have to be sure you have the right ones. However, this one seems straightforward enough, assuming that the funds will be there to cover an additional 500,000 biopsies and blood tests.
What do you think?
Image Credit: Chantal Richards
| | | |
| --- | --- | --- |
| | | I've written a book summarising what we've learnt over 20 years of dealing with the gluten free diet, and it might be just what you're looking for. It packs the lessons we've learned into what I hope is a helpful and straightforward guidebook. It's available on Amazon, as a paperback or for your Kindle… |