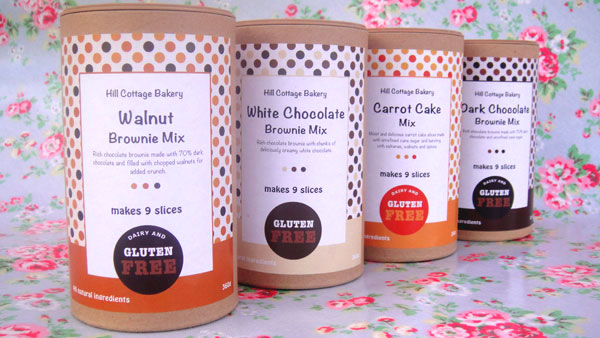 Did you know that the National Trust has over 3.7 million members?
Some of those are lucky enough to be able to visit Tyntesfield, and after exploring the property, stop at the cafe and eat wheat- and gluten-free cake made by Hill Cottage Bakery.
Tyntesfield is too far for us (we're more Little Moreton Hall way) but Amanda Armstrong, who bakes the Hill Cottage cakes, kindly sent us some of her new venture, cake mixes, for us to try.
Her cakes have been on offer for some years at Tyntesfield, and have been extremely popular. If they are anything like the mixes, I can understand why.
We've made up both, and they are just fabulous, with a genuinely home-made quality taste. The ingredients list includes only those things that might be in your own cupboard (assuming you bake with xantham gum)—certainly in mine—and the mixes are extremely easy to make up. Just add eggs and oil (and carrot, for the carrot cake) and bake. Amanda has even included a piece of greaseproof paper in each mix pack!
Amanda sent us two samples:
White chocolate brownie mix.

We all love brownies here, and this one came up gorgeously fudgy, just how we like it. My husband gallantly said 'but your homemade ones are a bit better, obviously' – but I really don't think he meant it. The brownies didn't last long enough to be served with ice-cream, but I can see that this would work well.

Carrot cake mix.

This is both dairy and gluten free. I think carrot cake is my favourite of all cakes, and this mix came up light, soft and moist, tasting really fresh and carroty. Most carrot cake has a cream cheese topping, but this doesn't need it at all. Just lovely.
Amanda has four different mixes, all of which are gluten and wheat free, and three of them are also dairy free. All contain 100% natural ingredients, which are also organic where possible, and no artificial preservatives, colourings or flavourings.
She says:
"The recipe for the carrot cake took a short time to produce as it is a variation of my existing carrot cake at Tyntesfield which I know is very popular and therefore I did not want to alter too much. However the brownie mixes were much harder to produce as a mix and have taken many months. I had to find a way of creating a rich, fudgy brownie but without butter. And I wanted to use the very best dark chocolate from Belgium in the mix rather than just cocoa as is used by cheaper brownie mix brands. Using real chocolate that has been finely grated into the mix brings a richness and depth to the end result that using cocoa alone could never reproduce."
I'd say she was successful. They are not cheap, but since the ingredients are all natural, and the results so good, I'd be happy to buy the mixes. You can buy them online at: www.hillcottagebakery.co.uk.
Do I recommend these? Yes I do!
I'd also suggest to the National Trust that they make the mixes available across the country, so that all their visitors can buy them from the National Trust shops. Or that their staff make up the mixes to sell in the cafes…
| | | |
| --- | --- | --- |
| | | I've written a book summarising what we've learnt over 20 years of dealing with the gluten free diet, and it might be just what you're looking for. It packs the lessons we've learned into what I hope is a helpful and straightforward guidebook. It's available on Amazon, as a paperback or for your Kindle… |