Well, what HAVE Tesco been up to?
Having gone through a period of free from doldrums over the last few years, the range of new products available in the Tesco Free From range in the last few weeks has gone up enormously.
This week I spotted:
Gluten free iced madeira celebration cakes: big and mini ones
A gluten free chocolate celebration cake
Finest gluten free carrot cake
Finest gluten free victoria sponge
Finest gluten free chocolate cake
Large gluten free fruit loaf, madeira loaf, and lemon drizzle cake
Finest gluten free chocolate ginger cookies, chocolate brownie, and chocolate millionaire cakes
I stood in the aisle and took pictures of the shelves to show coeliac daughter – I did get a few odd looks! And they're awful photos – I've never been good at taking pictures – but you can see how pretty the celebration cakes are.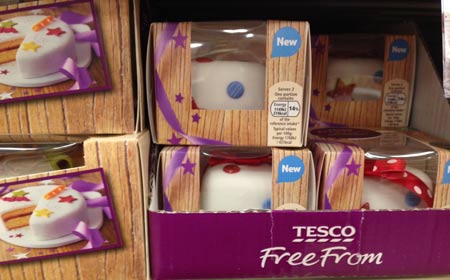 New products we've spotted and enjoyed over the last few months:
Gluten free strawberry and vanilla ice cream cones – very popular here!
The gluten free sweet and savoury party selections
Gluten free battered onion rings – onion rings! Who knew we needed these until they were there?
The ham hock and cheddar crispbakes, and the cheddar and onion crispbakes – these are delicious, and get shipped off to university for coeliac daughter every so often (no Tesco where she is)
Gluten free sweet and sour chicken bites – chinese flavours are rare in the free from world
Wholecreations gluten free spiced chicken pizza – this went down very well
And the Genius meat pies.
Wow, what a turn-up!
I met with some of the Tesco people a few months ago and they said they had some great stuff in the pipeline. And they were right.
Tesco may be having a bad time in the grand scheme of things, but the people creating new free from products for us are doing great!
But why isn't there more fanfare? As a regular online shopper, they have my email address. They KNOW that I buy free from all the time. Why no special email to their free from customers? I think they're missing a trick here.
| | | |
| --- | --- | --- |
| | | I've written a book summarising what we've learnt over 20 years of dealing with the gluten free diet, and it might be just what you're looking for. It packs the lessons we've learned into what I hope is a helpful and straightforward guidebook. It's available on Amazon, as a paperback or for your Kindle… |