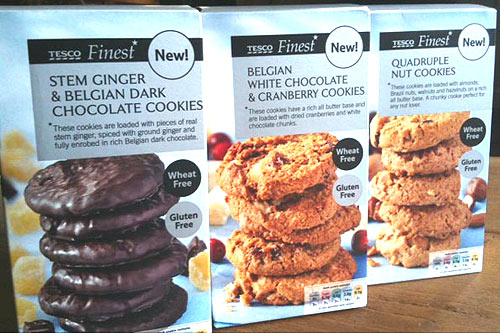 Two days ago, I was in Tesco, doing a spot of reshelving. Well: moving the NOT gluten free Warburton wraps away from the gluten free section, leaving the new seeded gluten free wraps in place (have you tried these yet? Our coeliac likes the white ones and is now enjoying the seeded ones too).
I'm sure I'm not the only one who mutters about people leaving inappropriate foods on the gluten free shelves. Shoppers probably see empty shelves, and decide to jettison things they've changed their minds about there. I hope it's not deliberate! I know that some people see deliberate rearrangement of supermarket goods as an art form, but I think it is highly risky – it's too easy for consumers to be confused – as you'll see.
Anyway, I was in Tesco again yesterday—oh the exciting life I lead—and was just about to set off on another reshelving adventure when I looked more closely at the packaging. Have you spotted the new feature?
Tesco Finest Stem Ginger and Belgian Dark Chocolate Cookies
Tesco Finest Belgian White Chocolate and Cranberry Cookies
Tesco Finest Quadruple Nut Cookies
And they are all both wheat free and gluten free!
I've not seen these on the shelves before. It's about time that gluten free foods were included in the Finest range. Yay for Tesco!
I guess my only quibble is the potential for confusion, since the packaging is so similar to the 'normal' kind. But we all read the labels carefully anyway, don't we?
Now I can't wait for coeliac daughter to come home from her own, rather more exciting, adventures, so we can taste them.
| | | |
| --- | --- | --- |
| | | I've written a book summarising what we've learnt over 20 years of dealing with the gluten free diet, and it might be just what you're looking for. It packs the lessons we've learned into what I hope is a helpful and straightforward guidebook. It's available on Amazon, as a paperback or for your Kindle… |