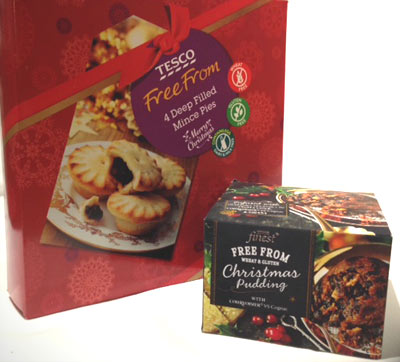 Have you noticed a change in your local Tesco recently?
I have; there's definitely an enthusiasm about getting new gluten free products out there for us to buy, and it's made a trip to Tesco mildly exciting – what new products will have sneaked onto the shelves this week?
Yes, I know, how boring must my life be; but when you check the gluten free shelves every time, hoping for treasure and finding only same-old same-old, finding something new truly makes a difference. And inevitably I have to buy the new products to try them!
I was down in London this week for an event hosted by Tesco, where I tasted some of their new frozen party range (both savoury and sweet), and had the chance to meet some of the Tesco people behind the launch of these new products.
The Party range is good. The savoury collection is chicken goujons, mini thai fish cakes and spicy bean bites. I didn't taste the meat ones, but I did enjoy the others. And the sweet collection is mini cakes (based on almond flour) which are also very good.
I was shown the new Christmas range – some of which is already available to me locally, but some I've not seen in any of our local Tesco stores, big or small. This year it includes not only the standard Christmas items of mince pies, Christmas cake, 'chocolate' coins and 'chocolate' advent calendar, but also:
Christmas-tree-shaped crumpets – which look fun for any child
a 'Tesco Finest' Christmas pudding – so there are 2 gluten free Christmas pudding choices in Tesco
and a large Yule log – big enough for an average family.
This is interesting for two reasons:
there are now better, and more attractive, child-friendly options than there used to be (remember the days when gluten free meant stodgy fare, sold in boring 'good-for-you' packaging? Children want more than dry custard creams in dull two-colour wrappers…)
and not only are there an increasing number of gluten free Christmas items in store, there's a choice of range (the core range and the finest range).
We talked about:
The cost of living gluten free. The cost of an average shopping basket inevitably goes up after a diagnosis of coeliac disease. The Tesco team believes that creating own brand versions of items means that the cost can be kept lower. It will be interesting to see if any gluten free products can be made cheaply enough to fit in the Basics range.
The difficulties of finding suppliers able and willing to provide gluten free products. It is expensive for suppliers to create gluten free products, and although the demand is rising, it is still quite a niche market, and for many big suppliers, it just isn't economic to produce gluten free products. For the smaller suppliers, of course, it can be difficult to produce them in the quantities that Tesco would need. It's a problem…
And we talked about their aim, which is to provide gluten free foods that are indistinguishable from not-gluten-free, so that people eating gluten free aren't made to feel isolated in quite the same way. So as well as extensive taste-testing, they've also tweaked the design of the free from packaging, to make it a bit less clinical, and a bit more 'foodie'.
And they do seem to be having some success: the Tesco Free From Spring Onion and Cheddar Crispbake has been shortlisted against non-gluten-free foods in the Frozen Savoury Foods section of the Quality Foods Awards next week, and the Free From Pollock Fillets have made it to the Frozen Fish shortlist.
The fact that these gluten free products are competing with 'normal' products says a lot about how far the free from market has come. (There are some separate Free From sections, and Tesco has products in those too). I'm really looking forward to the next steps!
***
(Disclosure: Tesco paid my travel expenses, and gave me some Free From products).
| | | |
| --- | --- | --- |
| | | I've written a book summarising what we've learnt over 20 years of dealing with the gluten free diet, and it might be just what you're looking for. It packs the lessons we've learned into what I hope is a helpful and straightforward guidebook. It's available on Amazon, as a paperback or for your Kindle… |