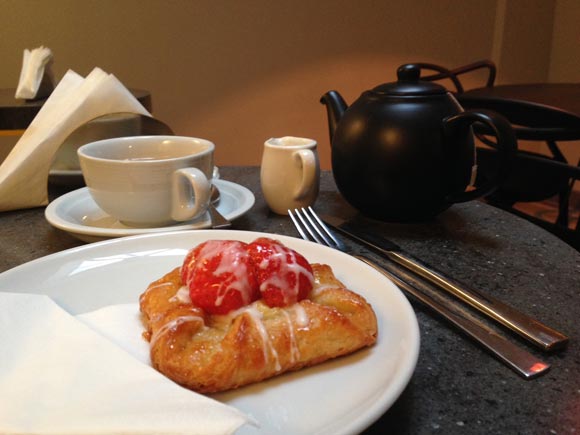 Doesn't that look delicious?
Since I was in London for the day, I thought I'd take the chance to call in at Beyond Bread for breakfast – and had a fabulous danish pastry. I asked for a muffin, but changed my mind when I saw the tray of danish pastries arrive, fresh from the oven…
I don't think I've been to an entirely gluten free cafe before, and this was a good experience. They were very welcoming – to me, and to all the other customers who came in while I was there. Clearly some of the other customers were regulars, coming in to pick up a sandwich for lunch, because they were discussing what they'd had yesterday, and what they'd have today. Some had dropped in to ask specific questions, like the one who wanted to know what egg-free breads they had available. Others were there for breakfast, like me, and at least one of those had porridge.
I didn't stay long enough for lunch, but the quiche they described (to yet another customer!) sounded delicious.
They are a completely gluten free establishment, and they use their own mixes of flours, with different constituents for different products. Preparing the mix and dough for the danish pastries apparently takes two days…
The cafe is small and sleek, and the level of enthusiasm is clearly high: there was a new member of staff on the front desk while I was there, being walked through the ingredients/allergens handbook, and being shown some of the more unusual items.
I sent coeliac daughter the photo above, and her response was: 'THAT'S SO COOL!'
I'm obviously going to have to take her to London sometime soon…
| | | |
| --- | --- | --- |
| | | I've written a book summarising what we've learnt over 20 years of dealing with the gluten free diet, and it might be just what you're looking for. It packs the lessons we've learned into what I hope is a helpful and straightforward guidebook. It's available on Amazon, as a paperback or for your Kindle… |