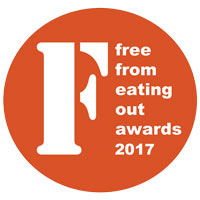 Whether you live in the UK or are just visiting, and you need to eat gluten free, it's useful to have a list of recommended places to eat.
Obviously there are a number of ways you can find suitable places…
You can ask a local (always a good option!)
You can search on TripAdvisor for gluten free restaurants anywhere in the world, and find out what other people think of them. Don't forget though, that each review is only the thoughts of one individual on one day—things may be different when you visit.
You can check out the list of places accredited by Coeliac UK. You can be sure that the accredited venues have been assessed by experts.
There are many blog posts with recommendations for places—a quick search will bring up a long list. Don't forget to check the date when the review was written, and then look up any place they recommend to be sure it is still in business, and still receiving good recommendations.
And now there is the map of winners of the Free From Eating Out Awards. This shows the winners for the last three years on a map, so you can find highly rated places in your area. Don't forget, too, to look at the shortlists for the last few years. The shortlists for each of these awards is also a list of highly recommended places, even if they didn't win an award on the night—the shortlist for 2017 is here.
The best gluten free restaurant in the UK
Well… obviously there isn't a single best place. But Mommi, in South London, was the overall winner this week of the 2017 Free From Eating Out Awards. I haven't been there—it's a long way from where I live. But I have eaten at a number of Gold Award winners in the last few years, and can recommend this as a way of selecting your next meal out—in 2017, I particularly enjoyed eating at The Clink.
And if you haven't yet tracked down a dedicated gluten free restaurant, and need to eat gluten free, then you should—it is great to know that you could eat anything on the menu…and to have a real choice of options.
Congratulations to Mommi on their win this year—and to the FoodsMatter team for organising another successful year of judging and awards. Bring on 2018—let's eat out!
| | | |
| --- | --- | --- |
| | | I've written a book summarising what we've learnt over 20 years of dealing with the gluten free diet, and it might be just what you're looking for. It packs the lessons we've learned into what I hope is a helpful and straightforward guidebook. It's available on Amazon, as a paperback or for your Kindle… |