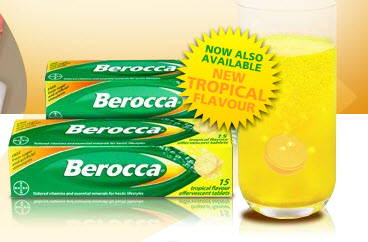 I love parcels – and was highly entertained to receive one from Berocca called a Blogger's Relief pack recently. And do I need help … working from home on two separate businesses and raising three children is turning out to be quite stressful. I'm just back from the dentist, because apparently I've taken to grinding my teeth in response to the stress.
So the Blogger's Relief pack was very welcome. It included some fun de-stressing toys, which I've hidden from the children for now, and some vitamins – perhaps rather more important in the longer term for me.
I was very pleased to note that the vitamins are gluten free, and a quick check on the Berocca website shows that their FAQ clearly state that the vitamins contain no gluten nor any wheat, barley or rye ingredients. A big hurrah for Berocca for making it so clear. I wish that all food sites carried this information so obviously.
So – now I just need to remember to take the vitamins. Apparently it takes 21-30 days to form a habit …
| | | |
| --- | --- | --- |
| | | I've written a book summarising what we've learnt over 20 years of dealing with the gluten free diet, and it might be just what you're looking for. It packs the lessons we've learned into what I hope is a helpful and straightforward guidebook. It's available on Amazon, as a paperback or for your Kindle… |