It's Coeliac Awareness Week here in the UK – 14-20 May. Did you know?
There are a number of events going on across the country, and Coeliac UK have managed to get coverage on a lot of mainstream media – radio, TV, newspapers and magazines. Their newsletter about this week's events is available here.
But how many people are actually aware of the Awareness Week?
A search on Google for 'Coeliac Awareness Week', gives 553 results (85 if I restrict it to sites from the UK only). Some for last year, obviously, and some for other countries, but this isn't bad coverage. Much of it is from Health Trusts, online newspapers and a few entrepreneurial retailers who are marketing their gluten free wares on the back of the Awareness Week.
However, in terms of blogs, a search on Technorati reveals that there have been all of 5 posts so far covering this week (there were rather more covering the Australian Coeliac Awareness Week, which was back in March – 10 posts) – and 3 of those are from this blog (more to come I hope!).
The other bloggers who've noticed this Awareness Week are:
Now this, I think, is quite interesting. 5 posts so far this week, when there are about 90-100 posts every day that Technorati tracks tagged as 'gluten free'. This is a worldwide figure, it's true, but still …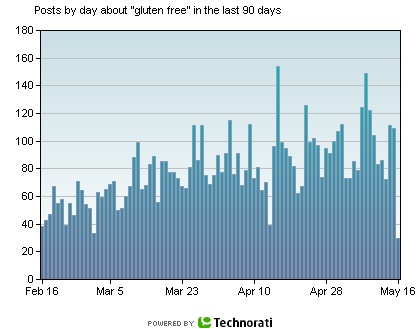 Possibly this means that Coeliac UK hasn't yet grasped the power of blogging as a communication device, though they've obviously worked hard this year to get articles into 13 magazines and 3 national papers, coverage on the BBC website as well as coverage on television.
I do think that coverage this year is better than last, and there are a lot of events on, organised by the local support groups, which should help spread the word.
But do you think Coeliac UK needs a blogger on board, to blog on coeliac issues, and raise the CUK profile? As far as the blogosphere goes, there isn't really any awareness of the Awareness Week …
| | | |
| --- | --- | --- |
| | | I've written a book summarising what we've learnt over 20 years of dealing with the gluten free diet, and it might be just what you're looking for. It packs the lessons we've learned into what I hope is a helpful and straightforward guidebook. It's available on Amazon, as a paperback or for your Kindle… |