Have you got a collection of scratty old bits of paper with recipes scribbled on? Bits of paper ripped out of magazines and newspapers? Recipes in your head that really should be written down?
Bet you do.
Tastebook have a solution to this. If you're in the US, you can create a recipe book to collect these recipes together – and have them printed out to file in a special hardcover cookbook. You can add your own recipes or drag and drop recipes from over 25,000 recipes from Gourmet and Bon Appetit magazines on Epicurious.com. Somewhere in there, there must be some good gluten free recipes …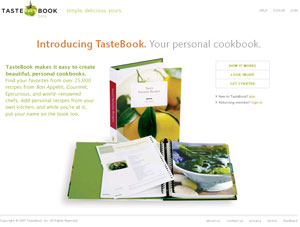 This is a great idea – perhaps particularly as a gift, or for a student leaving home for the first time. It only costs $34.95 for up to 100 recipes (and the tabbed, notebook-style cookbook with customized cover), and you don't need to decide on all 100 recipes up front, because the cookbook lets you add or remove pages at will.
There are a few issues that I can see, but once these are ironed out, this ought to be a successful venture:
you can only create and ship the cookbooks within the US.
I can see no categories for special diets (gluten free, dairy free, nut free …), and nothing marked up on the recipes themselves to indicate whether they are suitable for a special diet or not, though the advanced search does let you specify dietary requirements
a search on Epicurious for 'gluten free' only produced 499 results. No doubt there are more, but who is going to search 25,000 recipes to identify which may be OK?
some of those recipes which came up under the gluten free search (for member recipes) actually weren't gluten free (Thai Chicken Pizza with a spelt pizza crust, anyone?)
you can't add images of dishes made using your own images
On the other hand, if you're really interested in creating your own cookbook using your own recipes (and images!) have a look at Lulu, who will print and bind your book for you in a variety of different formats. For example, you could create a single 6″ by 9″ casewrapped hardcover with 150 pages at a manufacturing price of $17.00 (or £9.40) plus shipping. You may even be able to sell it at a profit … all you need to do is come up with the contents!
| | | |
| --- | --- | --- |
| | | I've written a book summarising what we've learnt over 20 years of dealing with the gluten free diet, and it might be just what you're looking for. It packs the lessons we've learned into what I hope is a helpful and straightforward guidebook. It's available on Amazon, as a paperback or for your Kindle… |