I was shocked to read about a small boy with multiple allergies and his coeliac friend who were not able to join in cookery lessons at school, but instead had to sit in a corner and read a book (read more on this in the Daily Mail). This shouldn't be happening …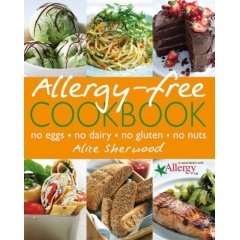 My daughter has been able to join in cookery in her primary school (though she couldn't taste all the sandwiches her classmates made in the 'design a sandwich' lesson) because they've used gluten free flour and baking powder – and her secondary school, where she will go in September, has assured us that there won't be a problem there either.
Now, this small boy's allergies include eggs and peanuts, which are dangerous allergies, so I can understand the school being reluctant, but there are ways around the problems other than simply excluding the children from lessons.
The point of the article was that his mother, Alice Sherwood, has written a book: the Allergy Free Cookbook (aff), with variants for each recipe including dairy-free, nut-free, gluten-free and egg-free.
We can do gluten free easily enough by now, but the thought of needing to create interesting meals that are also dairy-free and nut-free is a real challenge. I'll be looking out for this book, perhaps in our local library … in the meantime, I think Alice should talk to the governors of her son's school, and see if between them they can arrange a better solution to cookery lessons.
I'd love to know what you think! (Alice, are you out there?)
| | | |
| --- | --- | --- |
| | | I've written a book summarising what we've learnt over 20 years of dealing with the gluten free diet, and it might be just what you're looking for. It packs the lessons we've learned into what I hope is a helpful and straightforward guidebook. It's available on Amazon, as a paperback or for your Kindle… |