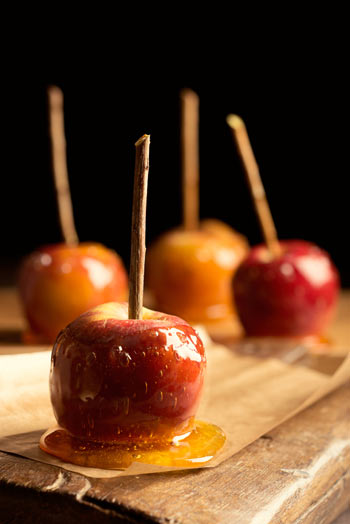 Have you ever heard of lecitem?
I hadn't, until coeliac daughter told me about it recently.
She'd bought a toffee apple (her first ever) as a reward for herself after an interview, but discovered it was not gluten free, since it contained lecitem.
Not gluten free? Surely it's just an apple, with sugar, syrup, water, and maybe a tiny bit of (gluten free!) vinegar?
Lecitem, it turns out, is a type of bread improver, and contains malt and wheat gluten. When used for bread, it makes it more 'machineable' – silkier and smoother – especially if you're using a high speed or spiral mixer. Perhaps, when added to the toffee, it makes it run through the machines better?
In any case, it was a surprise to me, and a disappointment to her. The things they decide to put gluten in!
So I made her toffee apples. I'm such a mean mother: I'd never done that before.
I used this recipe, based on the one from BBC Good Food:
Six crunchy eating apples
200g sugar
½ tsp cider vinegar
2 tbsps golden syrup
Blanch the apples by covering them in boiling water briefly to remove the waxy coating. Dry them, twist off the stalks, and push a wooden skewer or lolly stick into the stalk end of the apple. This will be your handle.
Put the sugar and 50ml of water into a pan, and heat until the sugar dissolves. Stir in the vinegar and syrup.
Prepare a sheet of baking parchment for cooling the apples on.
Boil until the mix reaches the 'hard crack' stage (or 140C). Testing with a sugar thermometer is easy, but if you don't have one, drop a small amount of the toffee mix into a bowl of cold water. It should go hard immediately, and be easy to break when you take it out of the water. If you can still mould it into different shapes, go on boiling the toffee.
Then dip and rotate each apple in the hot toffee until it is covered, let the excess drip off, and then put it on the baking parchment to harden.
Make sure the toffee is cool before you eat it!
| | | |
| --- | --- | --- |
| | | I've written a book summarising what we've learnt over 20 years of dealing with the gluten free diet, and it might be just what you're looking for. It packs the lessons we've learned into what I hope is a helpful and straightforward guidebook. It's available on Amazon, as a paperback or for your Kindle… |