Remember the half-term holidays? I know, only last week, but already it seems like a long time ago, doesn't it… Did you enjoy it?
We drove south, and spent a few days visiting relatives – which was lovely – but then had a hideous journey home. All motorways were blocked. Eventually, we headed cross-country only to find that our last remaining route was also blocked, so we decided to take a break and hope that the roads would be clearer in a couple of hours.
So, not expecting much, we pulled off the country roads at Bicester, and trekked into the Bicester Retail Village. This was due to close for the night in a couple of hours, so we really weren't optimistic, and there wasn't a lot of choice.
A typical distress purchase, in fact.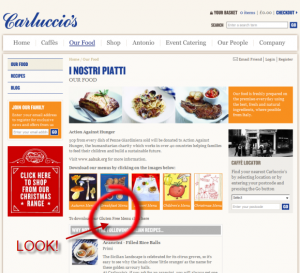 However – and you knew this was going to end up well, didn't you? – we walked into Carluccio's. We've not been there before, though we know of it, of course: it's an Italian foodshop with a cafe attached, isn't it?
Turns out to be rather more than that.
Could they feed us? Yes. Even though one of us was a coeliac? Yes – tell your waitress.
So we sat, and did the usual picking out of items that might possibly be acceptable, only to discover a note that said they had a dedicated gluten free menu. Could we see that?
Oh the joy.
3 starters; 4 salads; 6 different pasta dishes (yes – pasta!); 2 meat-based dishes; and 6 side dishes.
Such a delight to go somewhere where my daughter has a choice – and more than a choice of salad, salmon or baked potato. And the staff were delightful: helpful when we needed it, and sincerely apologetic when the children's choice of dessert wasn't available.
We loved it. All five of us chose a different pasta dish; my coeliac daughter chose a simple tomato and basil one – gluten free. Perhaps next time she'll choose something more adventurous now they've earned her trust.
Because we'll be back. Not only as part of our north-south travels – because Bicester is ideally placed halfway – but also to Carluccio's other branches. There's one in the Trafford Centre…
The only thing I'd suggest for improvement is that they develop a gluten free dessert menu as well, as the current dessert menu isn't clearly marked up for GF or not.
If you'd like to know more, to download the gluten free menu, or to find out if there's a Carluccio's near you, visit the Carluccio's website.
| | | |
| --- | --- | --- |
| | | I've written a book summarising what we've learnt over 20 years of dealing with the gluten free diet, and it might be just what you're looking for. It packs the lessons we've learned into what I hope is a helpful and straightforward guidebook. It's available on Amazon, as a paperback or for your Kindle… |