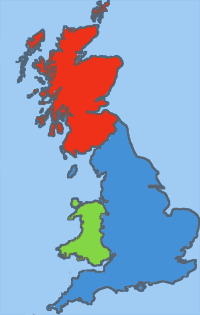 I've mentioned before that people who live in Wales don't have to pay any prescription charges … which means that they can receive any gluten free items prescribed for free.
I've just discovered that the prescription fees for people in Scotland are being reduced over the next few years until the fees are abolished in 2011. This year, prescription charges in Scotland will be down to:
Single prescription: £5
An annual season ticket: £48
A quarterly season ticket: £17
Here in England, from 1 April, the prescription charge will be:
Single prescription: £7.10
An annual season ticket: £102.50
A quarterly season ticket: £27.85
(though 88% of English prescriptions are dispensed free of charge, based on age, income or health status, e.g. being pregnant). This is apparently below the rate of inflation, but still seems a little steep compared to the Welsh or Scottish option, particularly when you think that one item might be a bag of pasta.
A season ticket is clearly worth buying if you are likely to need more than 3 items in 3 months, or 14 items in 12 months – whether you're in England or Scotland. Of course, the Department of Health doesn't refer to season tickets but to prescription prepayment certificates (PPC) – so if you need to apply for one, that is what you should ask for.
For more information:
Can I get free or cheap prescriptions?
What can I get on prescription?
Do I talk to the doctor or the pharmacist?
Not British? For an explanation of how the prescription system works here in the UK, based on discussion on this post:
The way it works at the moment is that a doctor can prescribe a range of basic gluten free foods (pasta, bread, crackers, sweet biscuits, pizza bases, flour) from a list of approved suppliers. This is one reason why it is good to get a 'proper' diagnosis of CD, at least here in the UK. (You can also buy gluten free food from supermarkets and so on).

We take the prescriptions to the pharmacist, who swops the paper for the goods.

Some groups of people don't have to pay the pharmacist for the prescribed goods (including these gluten free things), and this includes children under 16 (under 19 if in fulltime education).

The bill for the prescribed goods is covered by central government, and is therefore paid for by the taxpayer.

So, once you have your diagnosis, it is possible to get a basic range of gluten free goods from the National Health Service. If you qualify, these will be free; otherwise it is worth buying a 'season-ticket' which will give you a discount on the cost.

The range of items a doctor can prescribe is limited, and doesn't include anything fancy. There are suggested amounts to be prescribed depending on the person's age. Sometimes we hear of doctors who are unwilling to prescribe – and there is a lot of discussion at the moment about how the NHS can continue to afford this. If it does prove to be 1 in 100 who are coeliac, this definitely isn't going to be affordable for government to continue to cover these costs. The argument is, though, that keeping coeliacs healthy and complying with the gluten free diet will reduce future costs to the NHS.

For my daughter, we usually ask for bread rolls, pasta, pizza bases and flour.
| | | |
| --- | --- | --- |
| | | I've written a book summarising what we've learnt over 20 years of dealing with the gluten free diet, and it might be just what you're looking for. It packs the lessons we've learned into what I hope is a helpful and straightforward guidebook. It's available on Amazon, as a paperback or for your Kindle… |