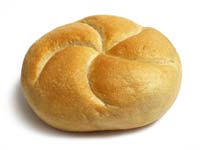 I was touched to see this story discussed today.
It tells of an Episcopalian seminary which has moved towards using only gluten free bread at communion, as an expression of their inclusive hospitality. Having seen a number of articles over the years about the difficulties some people have over finding, or being permitted to use, gluten free wafers for communion, I thought this was a lovely solution to the problem. (Yes, I can see this might not work for all styles of communion).
The article does tell of the problems that they have experienced due to the crumbly nature of gluten free bread – which we can all confirm.
The answer is, of course, xanthum gum.
| | | |
| --- | --- | --- |
| | | I've written a book summarising what we've learnt over 20 years of dealing with the gluten free diet, and it might be just what you're looking for. It packs the lessons we've learned into what I hope is a helpful and straightforward guidebook. It's available on Amazon, as a paperback or for your Kindle… |