I'm delighted to have a guest post for you today from Saara Aziz, who has many years of experience living a student life whilst having coeliac disease and understands the difficulties many students face trying to live gluten free. It is due to this experience that Saara decided to blog and create her site: The Gluten Free Student Cookbook. The aim of the site is to allow students the chance to try easy and cheap gluten free recipes, especially for those who aren't yet confident in cooking.
Over to you, Saara!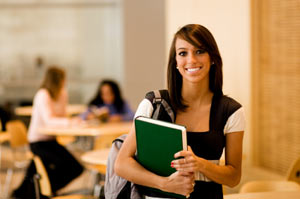 Being a student at University is one of the most exciting, fun and life changing experience most of us face in our lifetime. It's during this time that you find yourself growing up, making your own decisions and finding that independence you so longingly craved.
Yet being a student can also prove to be quite stressful with a lot of students finding it difficult to find that right balance between studying hard and playing hard, eating well and socialising too. However, suddenly finding yourself being diagnosed with coeliac disease or having coeliac disease previously, can prove to be quite difficult at first and understandably, very daunting.
I was studying in my first year when I was diagnosed with coeliac disease. I was having such a rotten time, that I assumed my stomach problems and pains were a result of stress. If my parents hadn't dragged me to the doctors, I don't know how long it would have taken for me to be finally diagnosed with coeliac disease –
Understandably, being told I had coeliac disease did make me have a […]