I'm delighted to have a guest post for you today from Saara Aziz, who has many years of experience living a student life whilst having coeliac disease and understands the difficulties many students face trying to live gluten free. It is due to this experience that Saara decided to blog and create her site: The Gluten Free Student Cookbook. The aim of the site is to allow students the chance to try easy and cheap gluten free recipes, especially for those who aren't yet confident in cooking.
Over to you, Saara!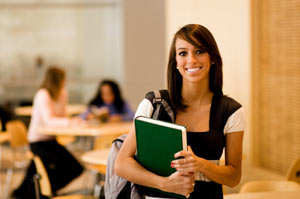 Being a student at University is one of the most exciting, fun and life changing experience most of us face in our lifetime. It's during this time that you find yourself growing up, making your own decisions and finding that independence you so longingly craved.
Yet being a student can also prove to be quite stressful with a lot of students finding it difficult to find that right balance between studying hard and playing hard, eating well and socialising too. However, suddenly finding yourself being diagnosed with coeliac disease or having coeliac disease previously, can prove to be quite difficult at first and understandably, very daunting.
I was studying in my first year when I was diagnosed with coeliac disease. I was having such a rotten time, that I assumed my stomach problems and pains were a result of stress. If my parents hadn't dragged me to the doctors, I don't know how long it would have taken for me to be finally diagnosed with coeliac disease – [fusion_builder_container hundred_percent="yes" overflow="visible"][fusion_builder_row][fusion_builder_column type="1_1″ background_position="left top" background_color="" border_size="" border_color="" border_style="solid" spacing="yes" background_image="" background_repeat="no-repeat" padding="" margin_top="0px" margin_bottom="0px" class="" id="" animation_type="" animation_speed="0.3″ animation_direction="left" hide_on_mobile="no" center_content="no" min_height="none"][I was quite lazy in my student days!]
Understandably, being told I had coeliac disease did make me have a mini breakdown. I had been living my life happily eating pot noodles, pizza and pasta, that the thought of having to finally give these delights up, filled me with absolute sadness. All sorts of thoughts ran through my mind; "how was I going to survive?", "how was I going to afford gluten free food?", "how were people going to treat me now?", "how do you even cook?!!!" . The thing was, I was never gifted in the cooking department, I could just about make a decent slice of toast without setting fire to my halls of residence!
Through this experience I generated a greater understanding of how to deal with University life as well as being a gluten free student. Here I've compiled a guide on how to get that support whilst studying at University:
1. Be Open About Your Illness
One of the things I feared most was how people were going to treat me when they knew I had coeliac disease. I foolishly thought, that if I kept it from them they wouldn't know and in turn, not treat me differently. This was the biggest mistake I could make. Confiding in your house-mates and your new university friends about your coeliac disease does make things so much easier. It doesn't have to be a big deal, it could be a passing comment or discreetly dropped into conversation or it could be a huge house meeting around the dinner table! Whatever way you choose to tell your house-mates, you'll be surprised at how easy it was to tell them and how interested they suddenly become. When I told my house-mates about my diagnosis they were extremely understanding and supportive. Not only that, but they understood why they shouldn't use my butter or margarine because of cross contamination.
2. Research Your Accommodation
Many students opt for university halls of residence when studying at university, it's a great way to meet new people and make new friends. However, there are two types of halls of residence you should keep in mind when arranging your accommodation; self-catered and catered halls.
Catered halls , although quite pricey in rent, will provide food for you which allows you to save money on food shopping. Before opting for catered halls, make sure you research before hand. Find out whether they cater for special dietry needs such as coeliacs and what gluten free food they have on offer. Don't be disheartened if you find that they only provide a limited amount of food suitable for people with coeliac disease, as self-catered halls can be an advantage. You're in charge of your own food, is cheaper in rent and it allows you the freedom of learning how to cook and make your own gluten free food.
3. Get Support From University
Living away from home and balancing university life can be quite challenging, yet understandably, finding yourself suddenly diagnosed with coeliac disease can have some affect on your well-being. All university's have a fantastic counselling service on campus which you can enquire about on freshers week, your university starter pack [if your university provides one] or emailing student services. Alternatively, you can see if there are any support groups set up for people with coeliac disease and if not, why not take this opportunity to start one up yourself? It'd be a fantastic way to make friends, great on your well-being and would glow brilliantly on your CV!
4. Register With A Doctor
Before starting University life, it'd be a great advantage to yourself to register with a doctor at the place you are studying. Usually, application forms are provided within your university starter pack, however if not, doctors can be easily found via the NHS Website; http://www.nhs.uk/servicedirectories/pages/servicesearch.aspx Just enter the postcode and it'll provide you a list of doctors in your area as well as information on whether or not they are taking on new patients. Registering with a doctor is an easy way of obtaining gluten free food on prescription which would save you a fortune! You may also be able to claim your money back from paying your prescription or claim part of the money by filling out a HC1 form, which can be found at most doctors.
5. Register With Coeliac UK Society
It is vital to anyone who has been diagnosed with coeliac disease to register with the Coeliac UK Society. You are given 6 months free subscription allowing you to view members only areas of the site, as well as a huge bumper pack in the post. It's within this bumper pack where you receive your Food and Drink Directory or as I aptly name it, 'The Holy Grail'. Inside is a selection of most major supermarkets; Asda, Tesco, Aldi, Sainsburys and a huge list of food suitable for people with coeliac disease. It's through this, that I learnt things like Bisto Best Chicken Gravy Granules are gluten free!
6. Gain Confidence To Cook For Yourself
Learning to cook whilst away from home is a daunting prospect. I tried to avoid it like the plague by relying heavily on take-outs and living off pot noodles. I never was a good cook either, my mum said I was capable of burning water for goodness sake! However, when I'd heard tales of how difficult it was to actually cook with gluten free alternatives, I avoided the whole thing all together and it was during this period that I had become dangerously thin and unwell.
You must remember that anyone is capable of cooking and the right way of gaining that confidence is to start with the basics! It's no good jumping in to the deep end and attempting to make a roast dinner, start as basic as a baked potato and learn that every thing you burn and destroy in the process is all a learning curve. You could also try looking for easy, student friendly recipes on my website: The Gluten Free Student Cookbook.
When I started my new site, The Gluten Free Student Cookbook, I found myself going through plenty of trials and errors, finding the easier and cheaper way to make things. I've lost count of the amount of times I have tried to attempt to make gluten free Yorkshire puddings! Usually, I would have thrown the towel in and given up but I'm determined to find a way of making them look and taste like their gluten companions!
[/fusion_builder_column][/fusion_builder_row][/fusion_builder_container]
| | | |
| --- | --- | --- |
| | | I've written a book summarising what we've learnt over 20 years of dealing with the gluten free diet, and it might be just what you're looking for. It packs the lessons we've learned into what I hope is a helpful and straightforward guidebook. It's available on Amazon, as a paperback or for your Kindle… |