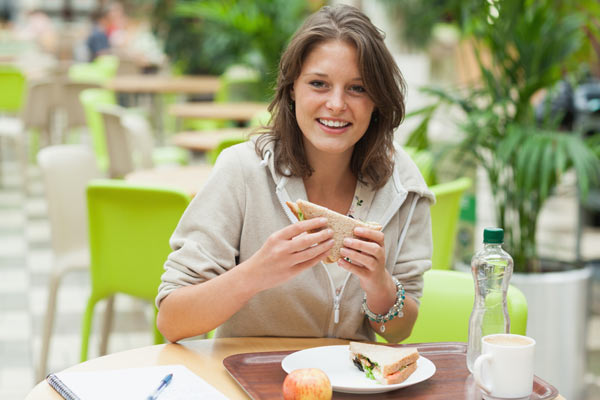 We've visited nearly 20 universities over the last two years, so that coeliac daughter (and her sister) could identify her favourite five to apply to. (In case you don't know, the system in the UK is that you apply to five universities, wait/hope for offers of places to roll in, and select one from your set of offers as a 'firm' choice and one as a 'reserve' – then you wait to see whether you achieve the grades demanded by your chosen universities).
One of the things we looked for – apart from the obvious ones about the course and the university – was how easy it was to eat gluten free.
Here are the very unscientific and incomplete results of some of our expeditions around the country.
At Nottingham, we discovered that readymade and wrapped gluten free sandwiches were available for sale on campus. Daughter ate two. We were pleased to find that these were standard fare on the shelves.
At Lancaster, she had gluten free rolls alongside a cold collation (meat and salads). They were down to their last gluten free roll when we arrived, and were talking about going to another outlet on campus to get more, so they obviously were aware of the need to supply gluten free food. We were pleased by the concern shown by the staff that they might not have enough.
At Leicester, gluten free sandwiches are usually available in the main shop in the – very nice – student union. They weren't available on the day we went to visit because the students were on holiday (though they did have 7,000 visitors on that day, so I think they missed a trick there). We were pleased that everyone we asked knew where we could (usually) find them.
And at the University of East Anglia, when I asked one of the academic staff where we could find gluten free food on campus, he not only escorted us to the main cafe, he asked the staff for advice – and the chef came out to discuss options with us. Apparently there are always gluten free hot meal options as well as lighter meals. We were amazed by their kindness.
She'll be going self-catered, because it's usually easier – and much more usual these days – but at Leicester there is still quite a lot of catered accommodation, and they made it very clear that they catered for gluten free diets as well as other special diets.
All in all, I found it reassuring; gluten free diets are increasingly well catered for. It is astonishing to remember that when I went to university back in the olden days, even my (these days quite normal) vegetarian diet was tricky…
Are you a gluten free student – or perhaps, like me, the parent of a gluten free student? How easy are you finding the gluten free diet at university?
| | | |
| --- | --- | --- |
| | | I've written a book summarising what we've learnt over 20 years of dealing with the gluten free diet, and it might be just what you're looking for. It packs the lessons we've learned into what I hope is a helpful and straightforward guidebook. It's available on Amazon, as a paperback or for your Kindle… |